Graduation Memories: Joe Casella
17 July 2012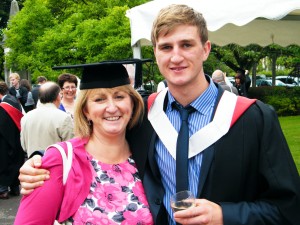 Mr Joe Casella, LLB Law, Class of 2011
Throughout the week of my graduation I had been working with the alumni office at Cardiff University giving out gift bags to graduating students, so I had an idea of what to expect from my ceremony. It was definitely a strange experience seeing all of my friends dressed in their gowns and caps, proud parents in tow, it felt like the end of an era.
When my turn finally came on Friday, the day seemed to fly by, the morning felt like a huge rush to get ready on time and collect my gown and mortarboard. Once I was all dressed up, I met my family, all with beaming smiles on their faces and we had the customary photographs taken outside of City Hall then headed across town to St.Davids Hall.
For the ceremony I found myself sat next to one of my old school-mates, our names had always been one after the other on the register in school and now were graduating next to each other from university as well, a proud moment for the both of us. I know some people think the ceremony is a bit of a hassle and too formal, but I think it's fitting to have something a bit different and a great way to celebrate everyone's achievement.
Following the ceremony it was up to the main building for the drinks reception and food. This was a great chance to have a chat with all of my friends from my course and we had plenty of free bubbly and photographs!
After the drinks reception I headed into town and met with my family, my uncle and aunt and both grandmas had made the effort to come in and we had a great meal in Jamie's Kitchen. It was great having everyone there to celebrate and it served to underline what a proud day it was not just for me but for all of the family.
My graduation day was a huge highlight of my time at Cardiff University, so much so that I ended up taking on a Masters degree the following year and I look forward to doing it all again!
After graduating Joe is  studying for his MA in International Public Relations and also works in the Public Relations office at Cardiff University.