Alumni Profile: Lauren Matherick
22 July 2016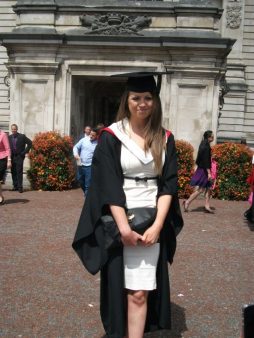 Have a read of our latest alumni interview with Lauren Matherick, a Class of 2012 Law graduate!
Hi Lauren! Why did you choose to study at Cardiff University?
I chose Cardiff University for a number of reasons the top two being:
Location; Cardiff is a beautiful city, it was far enough away from my family to feel like I was making that next step in life but also it was close enough that If I wanted to go back and visit for a weekend I could. The university is also based within the city, so you have everything on your doorstep, from shopping in St David's to a night out on Mill lane. As it's a capital city there is also a lot of entertainment at the principality stadium and motor point arena.
Academic reputation; I looked at Cardiff University as the crème de la crème of my options. I never thought I would get the grades to make it in, in fact, my Law teacher even said to me that I should probably aim a bit lower and try another university with lower qualification criteria. I didn't let that stop me and thank goodness I didn't!
What's your favourite / most memorable memory of your time as a Cardiff student?
I think it's quite hard to think of one favourite memory of my time as a student at Cardiff, but it wouldn't of been half the journey it was without my group of friends. We all met in first year in halls, strangers bundled together. Every week we had a different fancy dress theme, a BBQ in Bute Park or a group roast dinner using an ironing board as a table! We lived in a house of 8 even after we had left university and got full time jobs. Even though none of us were originally from Cardiff, we are all still here (albeit not living together) I don't think any of us ever want to leave!
What did you do in the year immediately after graduating?
I worked in a Law cost firm in Cardiff City centre, I actually went for the interview during my final exams and got offered the job before I'd finished. So I was ready to start working as soon as I graduated.
What is your current role?
I now work in Marketing and Communications. I decided that even though I studied Law and worked within the industry for two years it wasn't for me which is fine, I don't regret studying it. I'm so proud of myself for getting my Law degree and I know I wouldn't be where I am today without it. I work with people a lot more now (which is great because I would describe myself as a people person). I organise events, run social media accounts, create and edit website content which all help raise awareness of the organisation.
How has your Cardiff University education contributed to your success?
I wouldn't be where I am now if it wasn't for Cardiff University. My academic qualification taught me an abundance of skills that can be implemented in a variety of Jobs and definitely put me on the path to graduate employment. But, it's also the life skills and the people that you meet whilst living and studying in Cardiff that will shape you not only academically but as an individual. I know I've got a few more years to go before I can call myself successful, but, I know I will get there!
What advice would you give to your past self when you were a student?
Make sure you get involved in extracurricular activities whether it's joining a society and becoming a committee member or doing a summer placement. This will all help with your CV at the end and give you that extra spark when employers are looking to recruit.
What advice do you have for current students?
Enjoy every single minute of it. It is hard work but you will also probably have the best years of your life there, don't take it for granted and make as many memories as possible.
Can you describe Cardiff University in 5 words?
Prestigious, Challenging, Proud, Inspiring and Social.
What is your lasting impression of Cardiff University?
I'm proud. Proud that I got accepted, proud that I attended and I'm proud of what I have achieved.
And so you should be Lauren! We hope you continue to be successful in your future career, stay in touch!