The Candle Festival
20 July 2016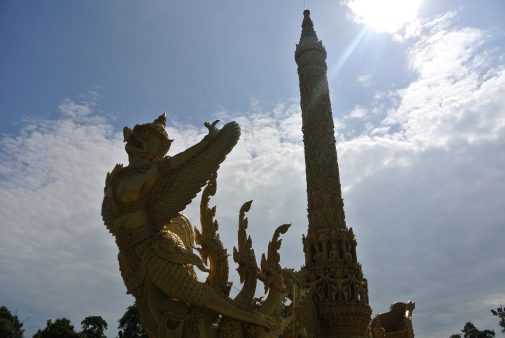 I woke up around 3am and couldn't get back to sleep so I looked up various TEFL courses. Since being in Thailand the idea of teaching abroad after I graduate has become more of a possibility. By the time the others were moving, at 4am, I had looked at a couple of courses and narrowed my choice down to Prague and Thailand. Although that's only looking into TEFL courses and not CELTA – but that can be dealt with next year anyway.
We got ready outside of the dorm room, not wanting to wake the rest of the people inside. I cherished my last hit shower in Chiang Mai – it was wonderful. Once we had packed the suitcase of toiletries and our own bags we trekked downstairs to where the hostel owner was waiting for us. We got our deposit back and then he gave us a lift to the airport, which was really nice of him as we were expecting him to just call us a taxi! It was a short ride to the airport and we checked in at least an hour before our flight, which was at 6.20. I think we were all anxious to get on the plane just so we could try to sleep. I only managed a small nap before they turned the lights on to hand food out, much to my annoyance.
Our flight arrived in Ubon Ratchathai around 8am and we went to change into nicer clothes whilst we waited for our suitcase. After getting changed I managed to leave my phone in the cubicle. As I was waiting for the woman to come out of the toilet we heard a splash that heard an awful lot like a phone falling in the toilet… When she came out she looked so apologetic and was holding a soaking phone. It was still on but knowing I wouldn't get to a bowl of rice for hours I dismantled it and wiped it down with tissues. I then put the separate parts in my bag in the hope that the heat in Thailand would try up any moisture I couldn't get!
After that drama we then went to meet Ben our mentor and he took us to Ubon Ratchathani centre, it was so busy that it took us so long to find a parking space. We then went and met Aum, he'd also been awake from 4am, and found a space to watch the parade. We watched some Thai dancers, musicians and candles pass on floats and walk down the street.
The most impressive float was the giant candle statue. Ben told me that some of the statues took around 3 months to make. This candle was so big that I'm pretty sure it took at least a year to make!
Inevitably the heat got to us and we went to the park with a similar statue in the middle of the park and sat in the shade for a while.
Then some of the students from Ban Pintho school arrived and asked if they could interview us for a school project. Two groups, one from my G.10s and one from my G12s, I think, asked me if I was enjoying the festival, so fairly simple. But one girl was so nervous she kept fumbling her words. They did really well though. I think I might try to include speaking practice into my lessons more.
After interviews and photos with them all we walked back to the school bus. On the walk back we got a breakfast of shrimp and cheese balls and Thai ice cream made of coconut milk and had peanuts and caramel sauce on top and sticky rice at the bottom. It was really nice, surprisingly. Eilidh's teacher, Mook, paid for it, so that made it even nicer.
What are you looking for?
We're looking for enthusiastic students who are currently abroad, or are soon going abroad, to share their experiences and write for our pages!
If you're interested, get in touch by emailing us at go@cardiff.ac.uk