The last chapter of Berlin
24 August 2015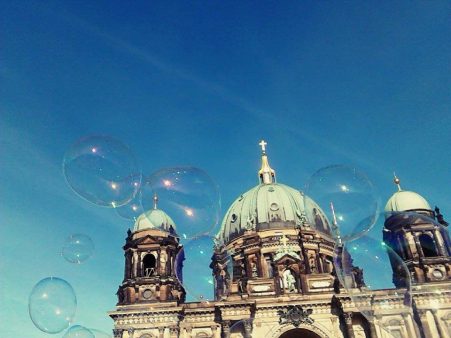 It is unbelievable to think that my Year Abroad is over! The last eight weeks of my time in Berlin was just one big blur. Having had time to re-adjust at home, I am now able to sit down and write about my final chapter of Erasmus!
June was very much a busy month for what seemed like an endless drag of assignments and exams. But! We did experience a couple of extraordinary events! The UEFA football cup took place in Berlin and therefore the streets were packed with thousands of avid Italian and Spanish football fans. The Brandenburg gate area was filled with stages, stalls and thousands of people. We spent the evening there and watched Robin Schulz live until the sun had set. By midnight, everybody was religiously chanting their respective football tunes!
Later on in the month, our class visited one of Berlin's main broadcasting stations, the RBB (which is similar to the BBC). We walked around and had a very impressive tour of the radio and broadcasting rooms! But the most remarkable day of this month was the 26th of June. On this day, the Queen, Prince Philip & Angela Merkel visited our university (out of all of the places in the world!), and as we were the only British students studying there, we were able to be in the same room as them! It was a relatively small room, and as the Queen, Prince Philip and Angela Merkel walked in, the room went silent. We had goose bumps, as we watched this remarkable event unfold with a bird's eye view on the balcony. There were so many blinding camera flashes. An orchestra started to play classical music and it all just felt like a dream.
After this surreal experience, it was back to reality! We were studying the module "Chinese economics of the beer industry" at the time, which was a somewhat bizarre experience! However, we passed it with flying colours (somehow), and as I handed in everything by the end of the month, I was more than ready to make the most of my time left in Berlin.
Shortly after, my two friends from university visited me! They stayed with me for a long time, which meant endless exploring! However, there was one major issue- the heatwave! It was averaging 35 degrees for the entire time I hosted them, which was just very funny considering there were 3 of us in my box room which felt hotter than a sauna. As a result, we were usually out of my room by 9am (painfully early for them) and I took them to the quirky places such as Mauerpark (the famous Sunday market) and Warschauer Strasse (the East Side Gallery wall) as well as the real touristy places such as the Reichstag and the Brandenburger Tor. Despite the unbreathable heat, we had a great time walking the hot pavements of Berlin and watching the skies turn from pink to black on my balcony. Due to the heat, we had the most humid and intense thunderstorms I had ever experienced! We watched the lightning strike and the rain pour for hours and hours. Now, this would have been entertaining but it wasn't seeing as a) my friend had a mild phobia of thunder, b) I was on my  quickly-deflating airbed and c) we were completely sleep deprived anyway due to the heat and the early starts, so the storm just made it impossible to sleep! We spent a ridiculous amount of time heading in and out of shops buying drinks; I would average 5 juices a day and end up feeling really sick by the end of it due to sheer lack of control! We ended up spending our days in the shade e.g. under the trees at Tiergarten or at the Charlottenburg Schloss. As soon as they left, it was July, which meant it was sadly time for me to start and un-do all of the bureaucracy I initially did when I arrived to Germany back in September. In the midst of getting ready to move back home, I spent a very relaxing day with Harriet and her housemates at a stunning lake on the outskirts of Berlin. It was a crystal clear day and we swam from one side to the other in very pure water in the sunshine. This was one of my favourite days of my Year Abroad.
I had to cancel my phone contract, my internet contract and my bank account, which was utterly stressful because of course I had to cancel it all in German! I even had to de-register as a resident! That particular day really hit home that I was leaving very soon. But the real hassle was having to paint my walls in my bedroom (I didn't realise I had signed into a contract where I'd be roped in to be a painter for a day), I had to get my mattress chemically cleaned (the cleaners managed to shrink it, so it didn't even fit my bed when I got back) and I had to of course get down on my knees and clean every inch of my room. Even on the day of departure, I had to have a room inspection. Now, this did go well, but I was asked to translate an e-mail from German into English as a favour for the Hausmeister, which I was just not expecting given that I had a flight to catch! On this very emotional morning, I also got up early before my room inspection, to give my bedding to a homeless man nearby. I was all packed and ready to vacate the room which I had called my home for the past 10 months, and after some very teary heartfelt goodbyes, I was off back to England!
It was a very emotional goodbye to Berlin and to the friends I made. I fell in love with the city and I made some friends for life. I saw Berlin through its rouge autumn, snowy winter, floral spring and blue skies summer. I saw as much as I possibly could and I made it almost mandatory to travel as much as I physically could in my spare time. I travelled to 17 different locations, either around Germany or visiting other European countries such as Poland, Austria, Hungary and Czech. I had such a meaningful experience travelling around different parts of Germany and Europe that I wouldn't even know where to begin! It has been the hardest yet most rewarding mental journey I have ever been on. I am sad that Erasmus is over, but what a chapter that was! And now, time to relax before I can call Cardiff my home for one last time!
Here are some of my favourite photos that I took during my time in Berlin. You can notice a beautiful difference in the seasons!
Aufwiedersehen for now Berlin!
What are you looking for?
We're looking for enthusiastic students who are currently abroad, or are soon going abroad, to share their experiences and write for our pages!
If you're interested, get in touch by emailing us at go@cardiff.ac.uk