Solo flyer
11 August 2015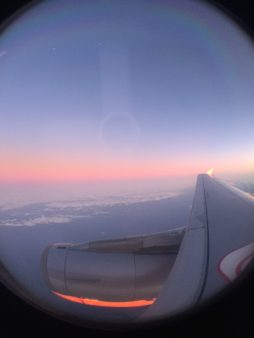 When I inform people that I am going to New Zealand for a semester, they're initial reaction is almost always, "that's so far!" It is far indeed, as if you think about it, New Zealand is the furthest part of the world that one can go from the United Kingdom.
At first, thinking about the distance had me feeling anxious about the travel, however, as the day to leave quickly approached, the travelling just became a part of the experience. Thinking about it in this light, being a solo flyer didn't seem so bad after all. In fact, the experience of being a solo flyer only made me more aware of my surroundings and made me more alert in getting to and from each gate. This was a different flying experience from what I am usually used to when I fly with my family. This solo flying experience heightened my confidence in approaching the road ahead, that is, having to live and study in a new place independently.
Stepping on to the aeroplane of my first long haul flight gave me butterflies.  However, once the aeroplane took off, I remember feeling extremely calm. This calmness came over me because I had my sight set on the destination. I knew that I only had one place to go and I trusted that the plane was going to get me there. I think this was the key to accepting the fact that I really was leaving, and it reassured me that everything was going according to plan.
Arriving in Auckland,  I was greeted by Anya. Anya was AUT's exchange student who spent her study abroad in Cardiff prior to my semester away. This was a blessing as I was able to get to know her during her stay in Cardiff, and was able to ask any questions about Auckland, whilst also getting a sense of what it would be like living and studying abroad.
Being greeted by Anya marked the start of my stay in Auckland and what was one of the most growing experiences of my life!
What are you looking for?
We're looking for enthusiastic students who are currently abroad, or are soon going abroad, to share their experiences and write for our pages!
If you're interested, get in touch by emailing us at go@cardiff.ac.uk