Saying goodbye to my experience in Norway and all the friends I made there
6 January 2020

The main fear I had weighing heavy on my shoulders about studying abroad is that it would be a very lonely experience. I always tried to submerge myself into the bigger groups but it never worked out; I think I learned the lesson that the bigger the group, the worse the drama enough times to know it was not for me mentally or emotionally. In my second year of university, I truly established a few core friendships that I see lasting for the foreseeable future and I did not want to leave this security blanket and putting myself out there in Norway.
I felt like a fresher all over again in Norway. Trying to navigate this whole new social network. I made some mistakes but I made some lifelong friends along the way for which I would like to thank them all for making my experience so wonderful.
To the ones that truly shaped my experience; the one who met me as I tumbled in with my suitcases and became the best flatmate I have ever had, the one who loved to share a fancy cocktail down at The Thief, the one I would roll my eyes with in class and share cuddles with their puppy and spend many a night eating glorious food. Thank you to all of you for taking me out of my comfort zone and for making my life in Norway unforgettable and for making my final moments in Oslo memorable, heartfelt and bittersweet.
LAST HURRAH AT BLÅ
The week before I left, I spent my final Sunday at Blå with my flatmate. It did not feel right to leave Norway without one last hurrah at Blå, even if I broke the heel of my boot from dancing. This jazz club was something I had never experienced and nor was it particularly my musical taste. But I ended up spending most of my Sunday evenings watching the Frank Znort Quartet sets that it became a routine.
As a mementos of the amount of calories I burned dancing there, I took home a shirt and got gifted a band lighter.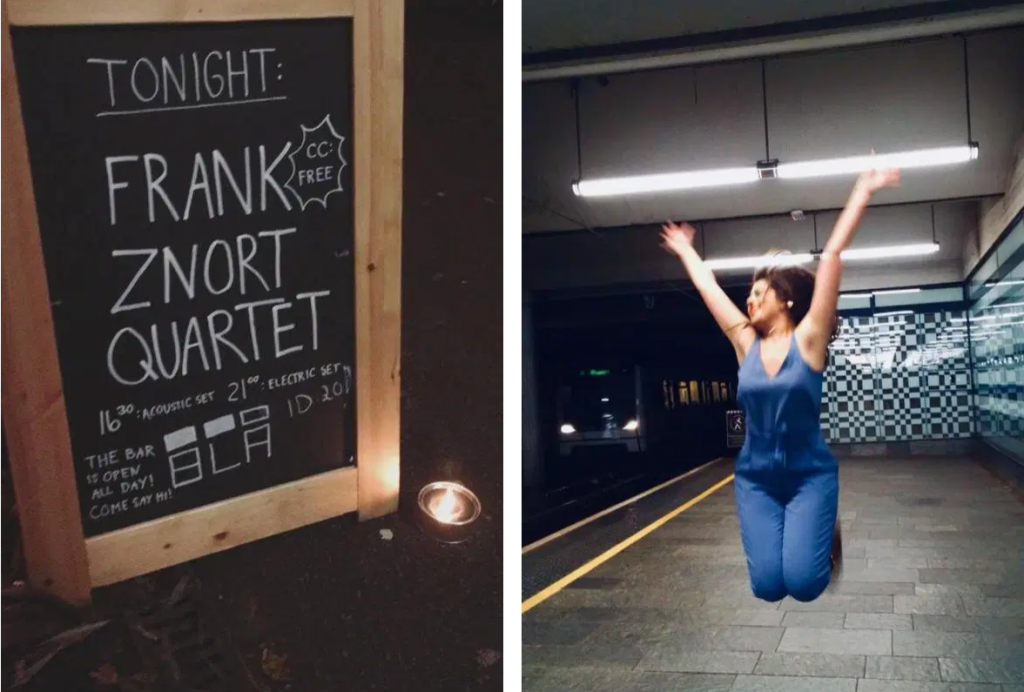 A NORWEGIAN BRUNCH
When I first met my Norwegian friend, we had been pitted together to do a presentation for our module. We were both anxious about meeting one another but when we did, an unexpected friendship blossomed from having so much in common. I was so thankful to have met this person as they gave me the full Norwegian experience from food to location recommendations and attractions.
Spending time at their flat for crazy puppy time with food became a regular occasion and they invited me for a Norwegian brunch on my final week. For the first time, their puppy realised I was not a chew toy and I got a perfect photo with him. And then my friend surprised me with knitted Norwegian mittens and polaroids to remember our time together. I absolutely plan to return to visit them and hopefully their hometown!
LAST MEAL AT OSLO STREET FOOD
After spending the day mainly packing, cleaning and thinking aloud for one final time around Sognsvann, I spent my final night with my flatmate. My flatmate was a fundamental component of why my semester abroad was so action-packed and positive. We not only shared a flat, we shared a class and we shared a love for Sognsvann. It seemed fitting that we would spend my last night together.
We first went to Oslo Street Food for a final meal before walking through the city, bypassing the Christmas Market, the university, the palace, and the Oslo Christmas tree before returning home to watch films.
I believe that at that moment, I still had not processed that I would be leaving the country the next morning. So as I walked through the streets, I had this strange feeling. Not quite sadness nor a bittersweet feeling, just this feeling that I needed to soak it all in and hope my mind could remember everything. It began to strike me when I got onto my final metro back to our housing. That it was my last time seeing these places and getting on this metro home for now.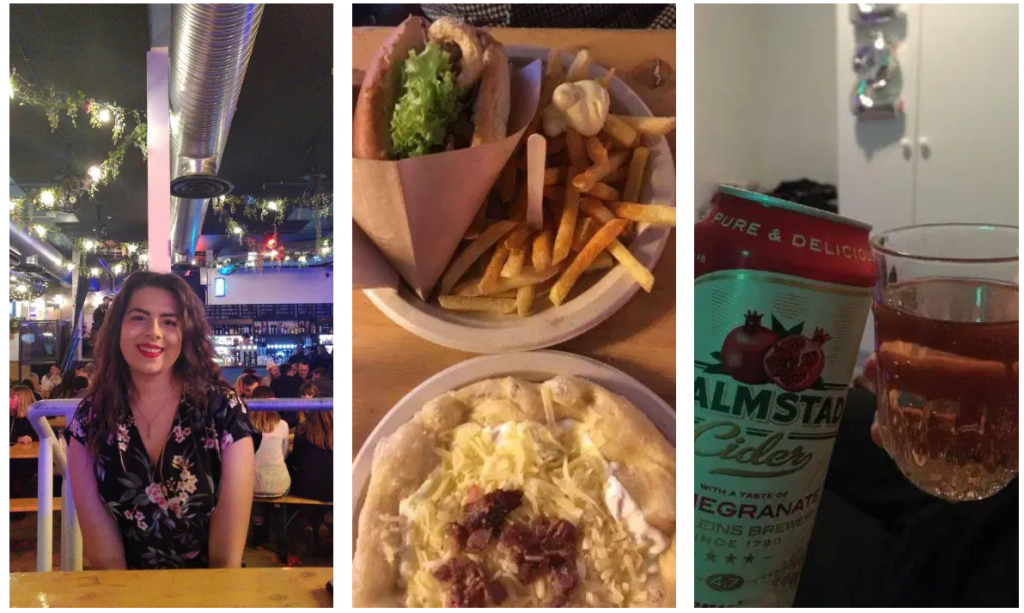 LEAVING KRINGSJÅ
When I woke the morning of my flight, I did not quite realise how much I had left to clear as I rearranged the bedroom to what it looked like when I first moved in. When I was finally ready, I was incredibly sad. This room that I had made so homely and utterly me was now bare. I think what I was more sad about was leaving the beautiful view I had behind.
Thankfully, my flatmate wanted to send me off at the airport so I had an extra pair of hands to hike up the treacherous iced slope to the metro station. No injuries, to person or baggage, happened somehow! When we arrived at the central station to catch the airport train, another friend came to say goodbye. Sadly we could not make it to The Thief but we visited the sauna that week to enjoy a final relaxing afternoon together.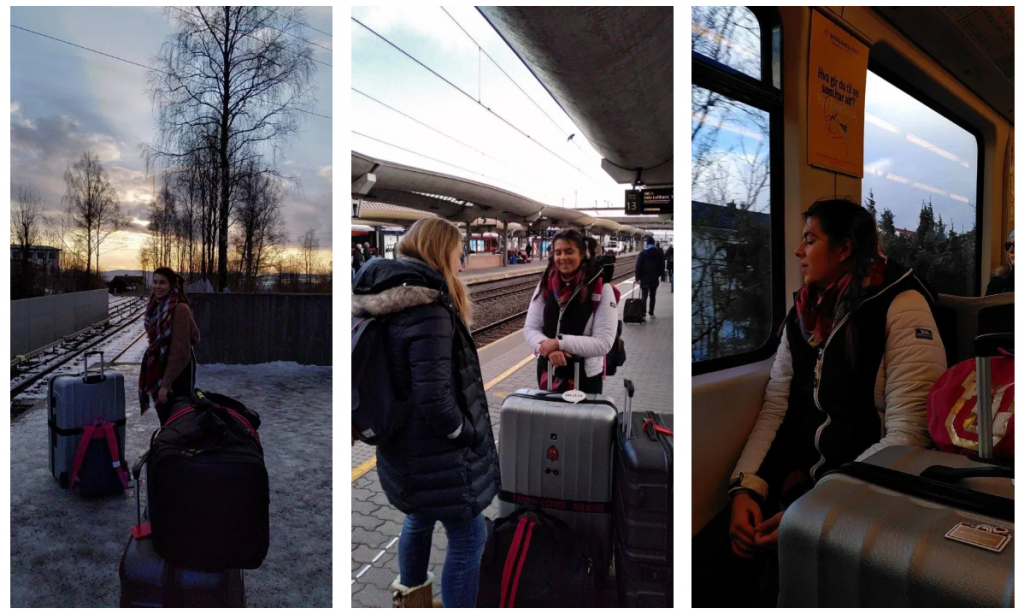 SAYING GOODBYE TO NORWAY
After checking my bags in and somehow not having to pay excess baggage fees, my flatmate and I enjoyed last drink together. Our semesters together had been so heavily defined by one another that we knew, when it came to say goodbye, there would be tears. And of course, there was.
I thought my semester abroad would be a lonely experience. Instead, I met someone who I cannot imagine my life being vacant of.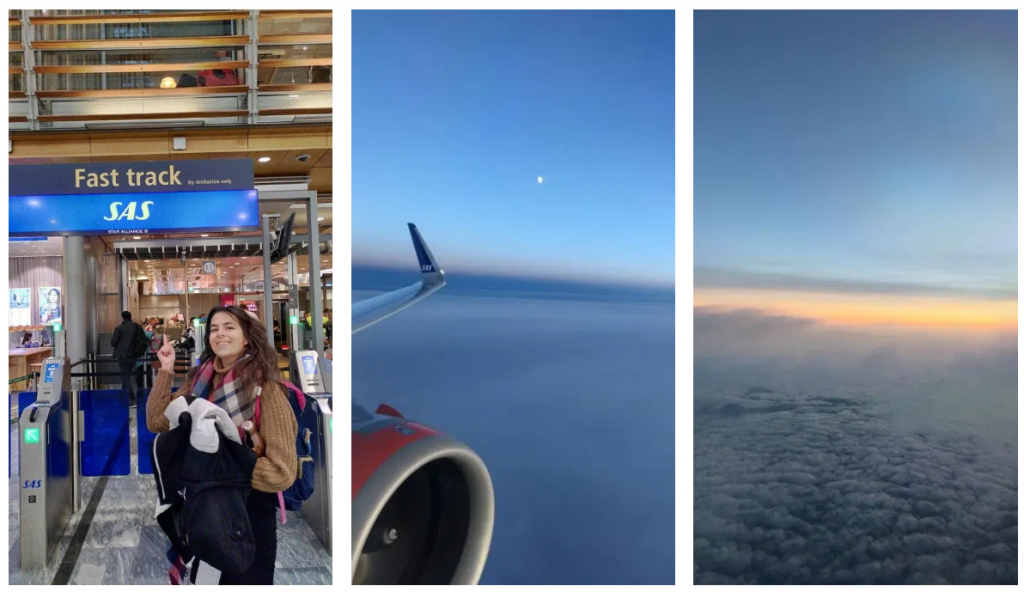 As I flew home that afternoon, as I silently said goodbye to what had been my home for five months, I was not sure how to feel. I was leaving so much but bringing much more back, it was just internal. Within spirit, mind and soul. I knew that I would miss living in this country and I was indebted to everything it had to offer for it taught me lessons, both good and bad, and nurtured me in ways that were desperately in need.
As I approached home, I got more excited at being reunited with my family and my cat. And after travelling all day, I was finally reunited with them and really, it was like I had never left. I was home.
I suppose, if you have not already realised, this is not only a goodbye to Norway but also a goodbye to this blog for the foreseeable future. It has been an incredibly rewarding experience to document my experiences and hopefully help all future Erasmus+ students with my firsthand account. I am so happy I decided to create this blog because it, along with all the people in my life, inspired me to live and not just see this experience as part of my degree that I needed to pass (and I recently found out that I did pass my semester with the highest honours!).
I would like to close with one final image of me on my penultimate walk around Sognsvann.
Thank you for taking the time to experience this journey with me.
What are you looking for?
We're looking for enthusiastic students who are currently abroad, or are soon going abroad, to share their experiences and write for our pages!
If you're interested, get in touch by emailing us at go@cardiff.ac.uk