Paris month one: finding my internship
28 February 2018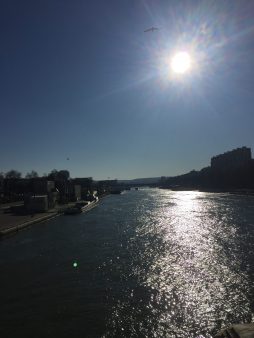 Time flies… but it feels like it goes by even faster on the year abroad which is why I cannot believe I've not written a blog in three months. There are a few reasons for my lack of blogging. In December, I was still finalising what I was going to be doing this semester so frankly it was a stressful time, what with also having to sort out exams before leaving Nantes as well as thinking about the essay for Cardiff uni. In January, however, it was busy for a very different reason… I arrived in Paris! I cannot express how much I love being in this city and over the course of the next few months (I'm here until mid-July), I'll be sure to update you all on the adventures I get up to exploring this wonderful city!
Firstly, however, I thought it would be a good idea to discuss work placements and advice for finding and choosing the right one since this is what I am doing here in Paris. As a French and Economics student, I knew I would be spending the entire year in France therefore I also knew pretty early on into thinking about my year abroad that I wanted to divide the year into a semester at uni and a semester working. Whilst Cardiff is massively supportive in whichever route you decide to take, it's a lot easier choosing a university abroad simply because more students go to university and also you have the list in front of you to choose from. When it comes to work, it's a case of researching, applying and obtaining the internship by yourself. I've come up with a list of tips and advice that I wish someone last year had given to me. It would probably have made my second year a lot less hassle!
1) Use the resources available
This is stating the absolute obvious but it's knowing where those resources are that can be difficult. I began my search with the folder on work placements found on Learning Central and as it so happens this is where I found the company I have come to work for. I would certainly recommend beginning the search as early as possible as by the time I was looking for jobs in this folder (around December of second year so pretty early), some jobs were already unavailable as they had earlier deadlines. Still, don't be discouraged by this as the folder is regularly updated so it may be that the job you're looking for will come later down the line.
Indeed is also a really good website and I applied to a couple of job advertisements on there. If you're interested in a particular company, I would also recommend looking directly at their website for any jobs going and don't dismiss the idea of working for charities. Yes, it is almost certain you won't be paid but you could gain some valuable skills and it will look great on your CV. I would suggest speculative applications to some firms if you've seen that they accept interns. Finally, use your contacts! You never know- your neighbour's aunt's brother-in-law might have an internship going at the company he works for.
2) Une lettre de motivation et votre CV s'il vous plait…
So you've found a job you'd like to apply for and you're scrolling through the job description until you reach the end where you find you've got to write a CV and cover letter in French (or insert any other language you're studying). Again, this may seem rather obvious (though I did have to apply to a few in English), after all the placement is going to be in a francophone country, but taking the time to write a CV and cover letter in French can be lengthy and be a longer process than anticipated. I remember when I first started looking at jobs and naively believed I could juggle second year work with applying to about two or three posts in a week. It's unrealistic!
The time spent writing a cover letter that fits the job you're applying for as well as writing it in a non-native language, before finally getting it checked over by someone who may be busy themselves will probably take a few days to a week. Then you've got to do it all over again! It was a stressful period in my life (as my flatmates would probably tell you) but I cannot thank past me enough for going through all that effort.
3) Think ahead
Rather than applying for a job for the sake of it, try to think of some of the skills you wish to develop or even better, try to think of a job that you'd like to do post-university and see if there are any internships centred around it. I was selective in the posts I chose to apply for because I knew that my main goal on my year abroad above anything else was to improve my French proficiency. Despite being in France, there are a lot of companies that value English interns for their English alone so definitely be aware of this if you feel this could hinder improving your French.
4) Be warned!
I definitely don't want to scare anyone off working abroad because I'm absolutely loving it but I'm also glad I was told these things before coming on my year abroad so that I could adequately prepare myself. Firstly, check how much and even if you'll be paid for the internship and then think of where the company/establishment is based. It's important to think of the costs of living abroad, especially if you end up in an expensive city like Paris! Secondly, the majority of private companies do not give time off purely because the internships usually only last about 6 months so bear that in mind when applying for a post if you think this could be a problem.
5) Enjoy!
Only because I wanted to leave this blog on a positive note. I am having such a fantastic time in Paris which I'll be sure to let you know more about in the coming weeks and months. My internship is wonderful and I really love working with my team. Do try to find a job you'll enjoy because you'll likely be working five days a week for at least six months straight and it really makes the experience much, much better!
Until next time…
"Nothing worth having comes easy." – Theodore Roosevelt
What are you looking for?
We're looking for enthusiastic students who are currently abroad, or are soon going abroad, to share their experiences and write for our pages!
If you're interested, get in touch by emailing us at go@cardiff.ac.uk