My First Day Teaching
11 July 2016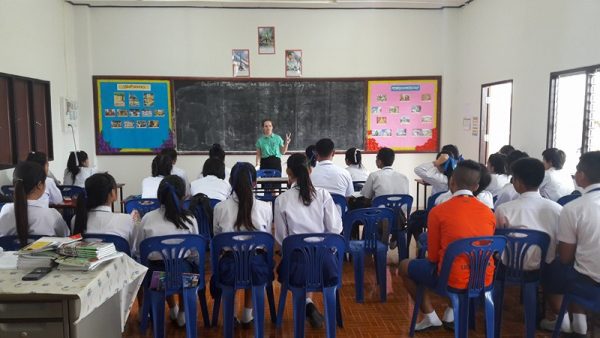 So having done no planning the previous day, I spent the first two hours of my day panicking about the three classes I had. I managed to put together a plan that I thought was adaptable to all three age groups (grade 10, 11 and 12, which are ages 16-18) and covered the topic of introductions. I had G.12 first. As much as they were terrifying, as soon as I got the class started my adrenaline kicked in and it was all fine. I threw my whale pencil-case around asking 'what is your name' and 'where are you from', asking them to say their name back to me and return the pencil-case. Needless to say they found this easy. The next activity was 'two truths and one lie'. This was a little difficult to explain and where I was grateful to have Aum as a translator. I got the students to play the game in groups. I don't actually know how well this went because they because speaking mostly in Thai. Aum suggested afterwards that I use more class activities so that I could make sure that students were participating in lessons.
After that we played 'who am I'. For this game I split the class into two teams and wrote ten answers on the board and they had to guess the questions. Again I am extremely grateful to Aum explaining the games. The two teams took it in turns to guess questions. This was a good game because it meant I could find out the average level of English in each grade. I think I could alter this game to be used when revising key vocabulary. The only issue with one of my answers was that I called my hair 'ginger'. I mean my hair is ginger, but the students didn't understand this and thought I meant the vegetable ginger. So that answer for that question changed to brown once I realised this.
My last lesson finished before 2pm, so apart from trying not to fall asleep in the office; I planned for the next day. Ben found some books for grade 10-12 so I could plan my lessons and told me the classes had only done up to unit 2. This meant that I could do some revision sessions so I could properly gauge what the students know and what I needed to go over. I also didn't want to start teaching them new information immediately, so revision was a comfortable level for me to start at. Especially, considering I haven't actually done teaching before. I talked to the others and found out that I am the only ETA teaching actually teaching and on their own. Hannah is with Napoleon and doesn't have much to do. Kate tells me she sits at the back of the class taking notes. Eilidh was just constantly swarmed by slightly badly behaved kids. But this is only the first day so it's not a proper gauge of things.
On a lighter note, one of the ex-students and admin staff brought their dog in today. The puppy's called Bop-bet, it's a chiwawa, and it's tiny and gorgeous.
What are you looking for?
We're looking for enthusiastic students who are currently abroad, or are soon going abroad, to share their experiences and write for our pages!
If you're interested, get in touch by emailing us at go@cardiff.ac.uk