Light the Night: Lysvangdring langs Akerselva
27 September 2019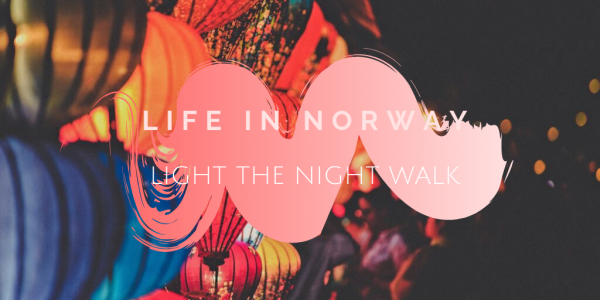 Every year, Oslo set up candle-lit mystical walks beside the city's rivers to celebrate the September equinox where day and night share the same amount of hours. This week, myself and my friend, Anna, took the candle-lit walk alongside the Akerselva river where we were surrounded by eclectic art installations, live music, dance and interactive performances.
The trail began at Frysja at 8pm, and we were guided by candles alongside the Akerselva river that separates the city through to Nydalen and continuing on into sentrum at 11/11:30pm.
Getting there was not so easy as all of the direct transport to Frysja were full so it our journey began at 9pm after a thirty-minute walk to the start point — the hot chocolate and cinnamon buns offered by locals who were present to guide those of us that walked to Frysja made an unexpected journey far more enjoyable.
Once there, we began trail. Throughout the walk, the path was lit by candles (too many to count so I commend the community for taking the time to set this all up) and we would have to stop every few minutes as there would be a unique art exhibition or live music. The art installations consisted of a variety of things from flamingo lanterns and animal sculptures (above) to interactive shadow displays (below) and multicoloured bags carved with symbols.
The performances that we encountered on the way were eclectic in music style and were in both Norwegian and English. I found that they enriched the experience — I particularly enjoyed the very first choir that sang a sombre rendition of Cold Play's Fix You as it set a peaceful tone for the walk.
The sheer effort that was put into this leaving no part of this trail unlit by candle light or art installation really left me in a state of awe. Perhaps the highlight of the evening for me was exiting the forest and walking along the river to discover a huge holographic figure (below) eerily moving to the rhythm of the waves.
There were also some incredibly peculiar performances from fire dancers and men in hazmat suits chainsawing apples in half whilst in the mouth of a volunteer from the public. I also cannot forget the random performers dressed in faux forest nature that would pop out from places to give everyone (including the dogs) a fright every now and then!
I have mostly spent my evenings here either working, going to Songsvann or going out so this was a lovely change to the routine. Whilst I took many photos for the memories, I will definitely be shutting it off to fully appreciate everything on the next light walk in the coming weeks.
What are you looking for?
We're looking for enthusiastic students who are currently abroad, or are soon going abroad, to share their experiences and write for our pages!
If you're interested, get in touch by emailing us at go@cardiff.ac.uk