Bois de Boulogne: Ladies of the Day!
13 October 2017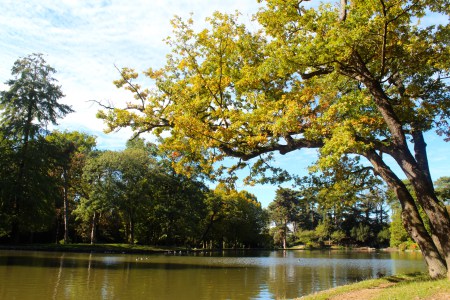 Call me naïve, a country bumpkin. Call me what you will. But until today, prostitution was an almost abstract idea. A practice confined to BBC Three documentaries, the windows of Amsterdam and 19th century French literature. One is never really exposed to much of the sex industry in the sleepy border villages of home. When I say "never really" I mean not, and when I say "not much of" I mean none at all.
I like to think I'm fairly street smart even savvy (notwithstanding innate irrational fears and barely leaving my room after dark) but I was shocked. Completely stunned in fact. In my defence, it was hardly a subtle realisation or first encounter. It was more of a bare arse cheeked, perspex pleaser heeled and suspendered kind of realisation or first encounter. You know the sort? Two of the first three Google reviews on the Bois de Boulogne mention what a great place it is for the whole family to hang out in so again, in all fairness, I feel like I was right to be a little taken aback by the roadside "butt naked" lady of the . . . absolute broad daylight. A couple of further sightings of scantily-clad ladies, multiple parked-up white vans and a quick Google search of "Bois de Boulogne prostitutes" later and I was ever so slightly less in the dark about what on earth was going on around me. Vice was quick to inform in the following article, boldly titled in true Vice style but insightful, "Paris' Prostitutes and Their Fabulous Trucks" (https://www.vice.com/prostitutes-trucks-bois-de-boulogne) that the park, steeped rich in a history of sex work was well known to Parisians as a modern day, ongoing "red light district", unlit. I guess I'm not quite there on the Parisienne front, nor will I probably ever be. Having read a Zola and being halfway through Bel-Ami, both of which are social criticisms aligning social downfall with sex and littered with references to the Bois de Boulogne, I feel rather silly and a little as though it was a glaringly obvious fact, in hindsight. It's a wonderful thing.
It all seemed such a bizarre juxtaposition. Old couples on afternoon strolls, dog walkers, and young picnicking families against a background of not only beautiful, historic woodland but also sex workers, working out of parked vans in the early afternoon. Despite France having passed a law in April of last year in an attempt to push for an end to prostitution and fight against human trafficking, and public solicitation having been outlawed since 2003, the roadside business went somewhat unnoticed by the old couples, dog walkers and young families and only really seemed daunting and bizarre to me, the bumpkin Brit abroad. Perhaps this non-reaction completely vouches for the age-old concept that the French are the most sexually liberal Europeans and have vastly different social constructs entirely when it comes to sex. On the other hand, maybe it only goes as far as to prove that I am naïve and not even a tiny bit street smart nor savvy.
Of course, the entire social and ethical issue of prostitution and sex trafficking is absolutely infinite, often so gravely serious and dangerous, that I by no means think this post does any more than scratch at the surface. However, today's outing and experience really did get me thinking and even interested in looking much further into the subject of the "world's oldest profession", its history and modern day manifestations. So much so in fact that it may become the subject of my first "Year Abroad Project" to send back to Cardiff. If my plan is deemed academic enough, I think I could make it work.
What are you looking for?
We're looking for enthusiastic students who are currently abroad, or are soon going abroad, to share their experiences and write for our pages!
If you're interested, get in touch by emailing us at go@cardiff.ac.uk