Hello and welcome to the School of Geography and Planning blog
18 July 2017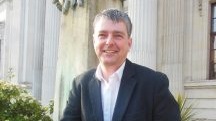 By Professor Paul Milbourne, Head of School
We are an internationally recognised centre of excellence for teaching, research and engagement in human geography, spatial planning and urban design.
As a School we critically engage with the relations between people, places and environments to provide academic understandings of, and policy and practical solutions to, the grand challenges of the 21st Century. Our specialisms include economic development, environment and sustainability, international development, social and spatial inequalities, spatial planning and analysis, urban design and cultural geographies. Our work engages with local, regional, national and global scales and issues; it also focuses on regions, city regions, cities and rural areas.
We are based in a research-intensive university, and we are renowned as a School for the excellence of our research. Cardiff University is ranked fifth in the UK for the quality of its research and as a School we are in the top 100 in the World QS University ranking by subject.
The high quality of our research is fed into our teaching. Indeed, we pride ourselves on our research-led teaching, offering students engagement with cutting-edge research themes and involvement in live research projects during their studies.
Two things distinguish us from other geography and planning schools in the UK and around the world. First, we seek to make connections between human geography and spatial planning, which means that our students gain an understanding of theories of space, place and environment as well as the ways in which our worlds are shaped by policy, planning and everyday practice. Making extensive use of case studies, field study visits and work placements, we actively encourage our students to connect academic knowledge and analytical skills received in lectures and seminars to a variety of real world situations.
Second, unlike most other geography schools, we only undertake research and teaching in human geography. Added to this, we have the largest number of human geography staff of any geography school in the UK. What this means is that we are able to provide both breadth and depth of coverage of human geography, allowing students to gain a thorough understanding of the key components of human geography as well specialize in particular areas of interest.
The School of Geography and Planning also has an outstanding reputation for the range and quality of its impact and engagement activities. Our research not only results in high quality academic publications articles but also impacts on a variety of user groups in the worlds of policy, planning and practice. The School organizes a public lecture series that reaches out to different audiences.
We have many important stories to tell, stories that address pressing issues in the world and I hope that you will find this blog informative and stimulating.
Professor Paul Milbourne
Head of School