The making and shaping of 'net zero' infrastructures in and beyond the 'city'
16 July 2021
Rebecca Windemer, Carla De Laurentis and Torik Holmes
The 26th UN Climate Change Conference of the Parties (COP 26) is fast approaching. The meeting will bring together almost all countries from around the world to discuss the global climate crisis. This now stands as one of society's most acute and pressing challenges.
It is accepted that addressing climate change and achieving net zero will involve the radical reorganisation of transport, electricity, gas, water and waste networks. This is a major test for society 'at large' and in particular those involved in managing key service infrastructures. This test involves network-specific and cross-network challenges, which are simultaneously configured in and beyond cities and across different spatial scales and timeframes.  
Recognising these challenges, we organised an impact and engagement event for Cardiff University School of Geography and Planning that brought together academic and industry experts to explore the following key questions: 
What problems do various infrastructures face in relation to meeting net zero?
How are specific network challenges and changes taking shape in and beyond cities?
What are the opportunities for (and barriers to) cross-network collaborations that support net zero? 
The event generated lots of fruitful discussion between expert speakers and participants. Here we outline some key insights, which were also captured by an illustrator on the day (see images below).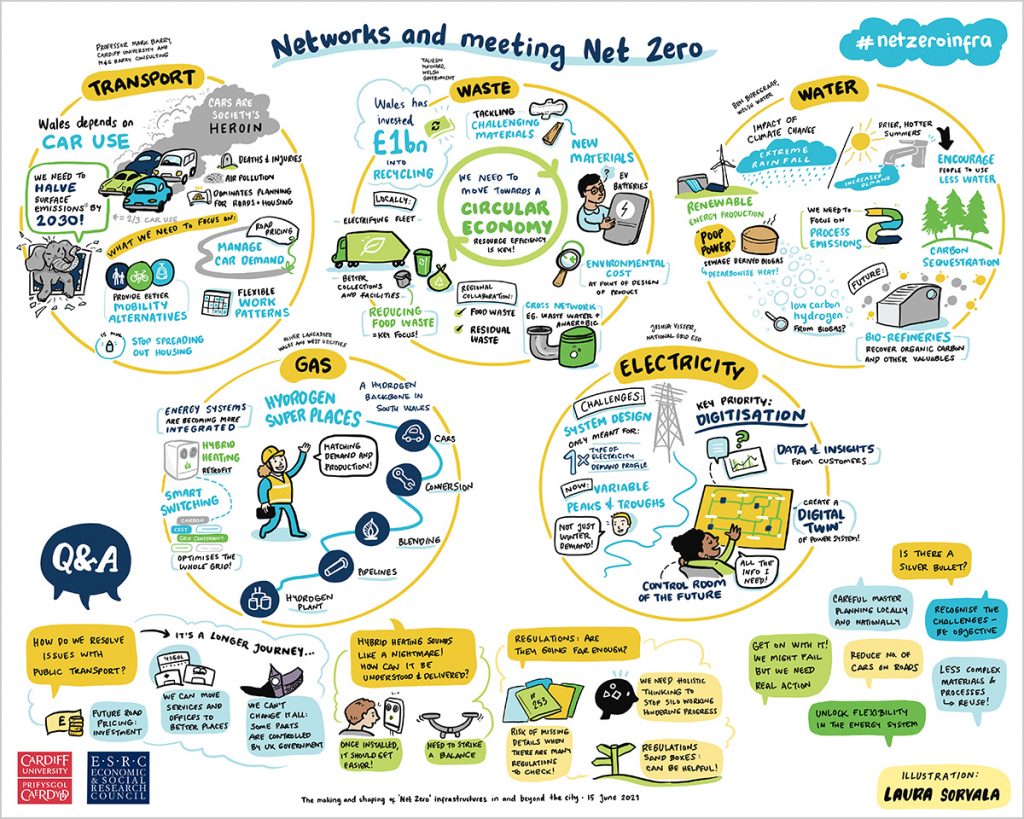 The path to net zero and a whole systems approach 
Our first speaker, Professor Nick Eyre from the University of Oxford, set out the wider context of the net zero challenge. He discussed the UK carbon emissions pathway required to meet 2050 targets and related implications for infrastructure. Nick emphasised the need for improving energy efficiency and reducing demand alongside a major expansion of renewables and storage. He also outlined the importance of electricity grid strengthening, heat pump deployment, heat network development, and the emergence of a new energy supply sector for hydrogen.
Nick reminded us that 'You can't treat a city as an island, the main contribution that cities can make is decreasing demand'. This can be achieved, for example, through insulating existing buildings. He also reminded us that cities consume more energy than they produce, meaning they rely on renewable generation from rural areas. It is thus crucial to foster positive relationships between cities and surrounding areas.
Emma Harrison, Head of Systems Integration, at Energy Systems Catapult developed this discussion. She argued that the 2050 net zero target requires a whole systems approach involving change from all parts of the UK and all sectors of the economy. She explained the need to break existing 'silos' between parts of the energy system and to join up physical requirements of the system with policy, market and digital arrangements. She emphasised that in doing so we need to deliver a system that ensures no sections of society are left behind.
Emma explained that a whole systems approach involves investment from across all sectors, occurring in an integrated way rather than in isolation. She recognised that digitalisation has a key role to play 'but it is a means not an ends.'
The need for local planning was also discussed as ''decarbonisation of heat, buildings and transport need tailored and integrated local solutions' involving a detailed knowledge of 'local' characteristics, including the needs of citizens, the quality of infrastructures, and established business models.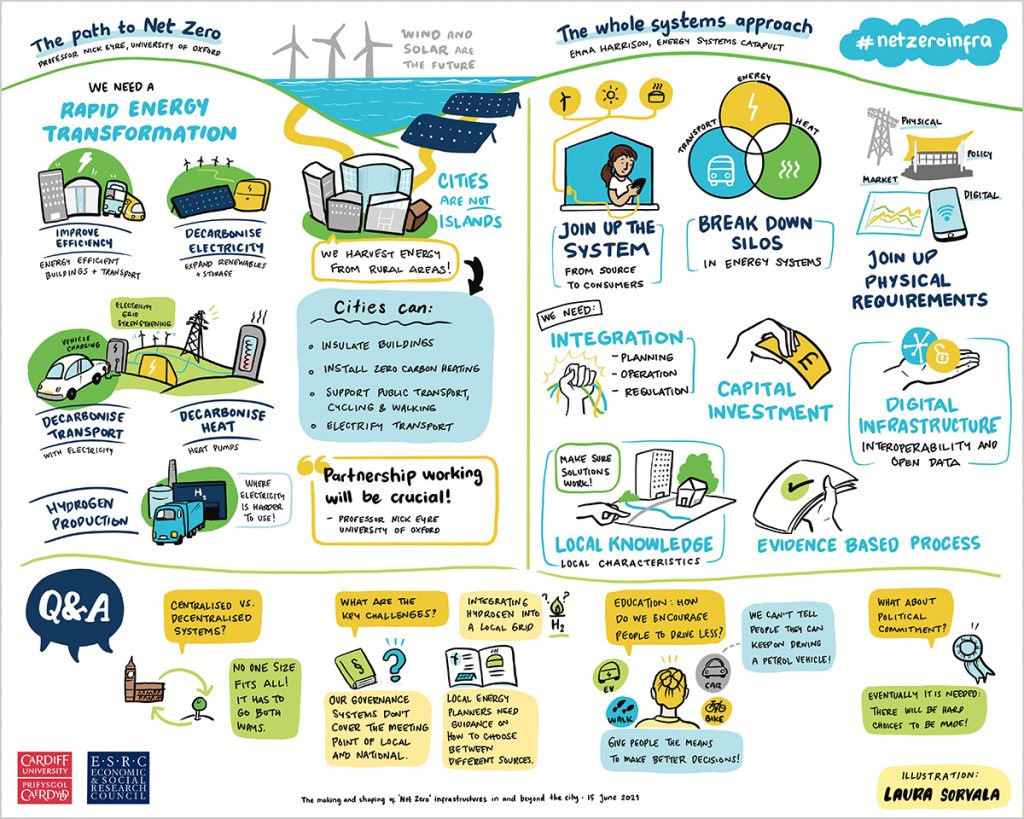 Networks and meeting net zero  
The second part of the event provided an opportunity to hear from industry experts from Transport, Waste, Water, Electricity and Gas Networks. The insights provided were numerous and defy easy summation. Participants learnt about: the need for more active travel; resource efficiency and opportunities to develop a circular model for waste materials; water efficiencies; carbon sequestration; hybrid systems and green gas supply; and, what an electricity control room of the future would look like. As part of introducing these ideas, speakers revealed the challenges facing each sector as they attempt to achieve net zero.
Common throughout the presentations was the need for rapid action, large-scale change and collaboration. Another common theme was the need for innovation including the move to greater digitalisation. Alongside large-scale infrastructural changes, the speakers identified the need for a range of behavioural changes, such as reducing water and energy consumption and a move away from car use.
The speakers revealed the opportunities for cross network integration, demonstrating the clear requirement for an integrated approach. The need to consider changes at different governance levels, from local to national, was made clear
Four 'take-homes'
Achieving net zero targets will require a whole systems approach involving integrated investments and collaboration across all networks, locations and sectors of the economy. 
Achieving net zero targets will involve considering networks and decision making in and beyond city boundaries.
Achieving net zero targets requires behavioural change and infrastructural transformation – and these should not be thought of as separate.
Achieving net zero targets requires a 'scaling up' of innovations, that take into consideration the contextual specificities of cities and beyond and how these need to be taken into account in supportive policy design
---
Bio
Dr Rebecca Windemer is an ESRC Postdoctoral fellow in the School of Geography and Planning, with a research interest in the role of the planning system in achieving net zero.
Dr Torik Holmes is an ESRC Postdoctoral fellow in the School of Geography and Planning. His research focuses on examining socio-technical dynamics of consumption and supply.
Dr Carla De Laurentis is a visiting researcher in the School of Geography and Planning where she held an ESRC Postdoctoral fellowship in 2019/20. Her research interest focuses on the geography of innovation and how current energy networks influence technological innovation and renewable energy deployment.