Riots as lenses on urban processes: the case of London 2011
14 February 2018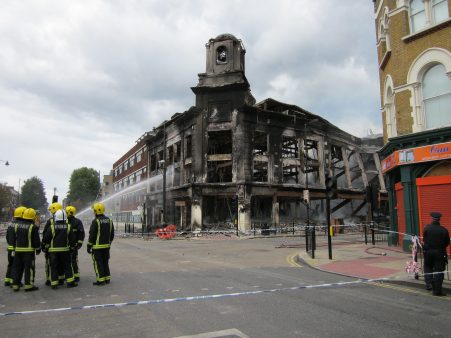 Anthony Ince draws from ongoing fieldwork to explore the ways in which urban violence can tell us a lot about how cities are shaped and reshaped by contestation from below.
As a city that embodies the dynamic complexities of the global metropolis, the aftermaths of London's 2011 riots may help scholars to understand it better. The co-presence of extreme wealth and extreme poverty, ethnic super-diversity, and market-led development strategies, are key factors in London's contemporary urban fabric.
The context of the 2011 riots was a powder-keg of social tensions and divisions, exacerbated by long-term, low-level police violence towards BME youth. On 4th August 2011, a young black man named Mark Duggan was shot and killed by police officers in dubious circumstances. He was a resident of the Broadwater Farm housing estate in Tottenham, north London, the site of previous riots in 1985 and a hotbed of community and political activism. On 6th August, a protest at Tottenham police station turned violent, and this violence quickly spread. In the two days that followed, rioting also broke out across 22 of London's 32 boroughs and several other UK cities, leading to 1,836 arrests within a week (Metropolitan Police, 2012) and £300 million in insurance claims (Lewis et al. 2011).
Although these riots were sparked by the killing of Mark Duggan and ongoing tensions with police, they were also linked to the changing economic and political environment. The rioters were from a predominantly young working class demographic (Lewis et al. 2011), and the impacts of housing deregulation and privatisation, precaritisation in the labour market, and dramatic cuts to education and youth services were key contextual factors. Rioters' and other community-members' narratives of the 2011 riots demonstrates a clear connection to both austerity agendas and longer-term processes of neoliberalisation that disproportionately affect working class communities. The stories of two neighbourhoods, Tottenham and Croydon, epitomise the contrasting experiences and outcomes of the riots.
Tottenham, where the riots began, is an ethnically 'hyper-diverse' neighbourhood largely populated by various close-knit working class populations. Tottenham also has a long tradition of political and community activism, and in the aftermath of the 2011 riots there was a substantial activist recomposition. With good transport to central London and relatively low property prices, Tottenham was already a target for gentrification before the riots. With property prices still deeply depressed after the 2008 financial crisis, the riots pushed them down yet further, providing opportunities for developers to intensify and accelerate efforts at redeveloping it for affluent commuters.
However, in the context of a long history of strong local activism, Tottenham has become a key battleground over development plans led by the local council and private investors. In one redevelopment site, this has included a community-led bid for affordable, low-impact housing comprised of a £300 million, 800-home 'counter-plan', utilising innovative participatory planning practices devised and self-managed by the community (St Ann's Redevelopment Trust, 2017).
Croydon, a borough on the southern edge of London, is starkly divided between a multicultural working-class north and an affluent, predominantly white and suburban south which has closer cultural affinity with rural areas outside the city. Often causing inertia within local government and internal conflicts among the population, this north-south division has meant that efforts at regenerating the area have been less substantial than in Tottenham, with less targeted demolition of social housing proposed (instead, and interestingly, 1960s office blocks are being converted).
In January 2013 the Croydon Partnership was created, a public-private coalition that devised a plan for the redevelopment of two major shopping centres, and a 'Boxpark' of shipping containers filled with boutique shops for attracting a young, affluent demographic. This strategy explicitly referenced the 2011 riots in its rationale (Mayor of London, 2013) and has been widely criticised for its cost and exclusivity of its desired customer base. While there is considerable community activity in the area, especially faith groups and residents' associations, there is relatively weak political organisation, which has partly led to far less substantial opposition compared with Tottenham. Moreover, demolishing housing is decidedly more emotive than new retail developments on existing retail sites.
We see similarities and contrasts. Both areas experienced the same austerity policies that overwhelmingly affected working class communities, and the riots were used in both areas as a rationale by government and business to accelerate and intensify gentrification efforts. However, different regeneration approaches (retail in Croydon; housing in Tottenham) are linked both to different histories and demographics as well as the different connectivity of the two areas to central London. Tottenham's response to these threats has so far been more substantial and organised than that in Croydon. How communities and local public and private institutions respond and re-shape themselves in relation to traumas such as riots is therefore differentiated according to a range of geographical and historical factors.
Violent urban confrontations are therefore not simply ruptures from the mundane; riots should be seen as part of a wider political continuum. They are spaces in which political and historical dynamics are intensified or transformed, profoundly shaping their various aftermaths. Riots, then, can help us understand urban processes and identify ways to create more just communities and cities, and are not simply irrational outbursts to be ignored.