Re-inventing regional policy: time for a new development model
14 August 2017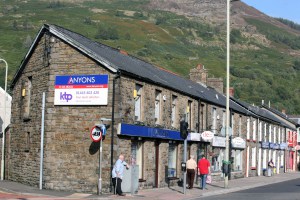 Professor Kevin Morgan argues that while Wales has the most to lose when it comes to funding, Brexit presents an opportunity to lead the way and design a new regional policy that marries traditional knowledge economy models of development with foundational economy models.
As the Brexit negotiations get underway it is understandable if the main focus is on the financial implications.
In the case of regional policy, the UK has been allocated €16.42 billion from the European Structural and Investment Funds over the period 2014-2020, which increases to €27.29 billion when the UK contribution is included.
No part of the UK is more dependent on these funds than Wales, where they are worth some £370 million annually, a figure that swells to £680 million a year for Wales when all the other EU funds are included such as the Common Agriculture Policy and Horizon 2020.
In its White Paper on Brexit, the Welsh Government says it plans "to hold to account the campaign promises that Wales outside the EU would be not a penny worse off than it would otherwise have been within the EU".  This is easier said than done because who in power is accountable for these promises?
Though it will be hard to persuade a pro-austerity Conservative government to honour "the campaign promises," politicians in Wales are at least alive to the funding challenge.
But are they also alive to the intellectual challenge of re-inventing regional policy and framing a new model of development, a model that gives parity of esteem to efficiency and equity?  And are they abreast of good practice in and beyond the UK as regards what works where and why?
The post-Brexit world will demand a less parochial and more cosmopolitan approach to regional development thinking in Wales. This entails building on the past (because we need to accelerate what works) as well as breaking with the past (because regional policy cannot shoulder the burden of a new model of development on its own).
Building on the past…the knowledge economy model and its limits
Re-inventing regional policy in Wales doesn't mean starting from scratch because policymaking is a path dependent process – what a region or country is capable of doing in the future partly depends on what it has done in the past and what it has learned from the past.
Regional policy architects will therefore, want to build on what is working well in the current EU programme and decide if its priorities are appropriate for a more demanding future.
Take the European Regional Development Fund as an example, where the key priorities are to promote:
research and innovation capacity (by nurturing regional ecosystems around firms and universities etc)
SME competitiveness (through better access to finance and higher digital take-up)
renewable energy and energy efficiency
connectivity and urban development (including the South Wales Metro)
It's hard to imagine any of these priorities being totally jettisoned given they are all important, so the challenge becomes one of identifying which places are best placed to develop the priority.
Given that a post-Brexit regional policy will be more flexible as it will no longer be bound by rigid EU regional divisions between West Wales and the Valleys and East Wales, there will be opportunity to design a more integrated placed-based approach and forge synergies and complementarities between places.
Regional policymakers will also need to refer to and interact with the UK's emerging Industrial Strategy following the publication of the Green Paper earlier this year. The Green Paper signals a new chapter in Conservative thinking in two respects. First, that it accepts that the state has a larger and more positive role to play in fostering development, and second, that it acknowledges that place-based institutions are critical to the success of "local innovation ecosystems" in the knowledge economy.
The knowledge economy model of development – predicated on science, technology and innovation in the narrow technical sense – currently dominates the policy worlds in Brussels, London and Cardiff, and regional policy has become a major conduit for this model.  The main problem with this model is not that it's wrong, but that it's partial. It's a model that only truly resonates with certain high-tech sectors, yet it implies that its benefits trickle down or ripple out to other sectors and places, when they manifestly do not.
A regional policy that is totally in thrall to the knowledge economy model is a regional policy that cannot claim to be smart, sustainable and inclusive – the key tests of a policy that gives parity of esteem to efficiency and equity.
Breaking with the past: nurturing the foundational economy model
To compensate for the partiality of the knowledge economy model, a post-Brexit regional policy will need to do much more to promote inclusive growth, as the Bevan Foundation argued in response to the public consultation on economic priorities in Wales.
A new regional policy will therefore, need to embrace and nurture the foundational economy, which involves the mundane production of everyday necessities.
Designed by researchers at Manchester University, the foundational economy model refers to that part of the economy that creates and distributes goods and services consumed by us all because they support everyday life.  The foundational economy includes the networks and branches of private companies or state agencies that distribute for example, health services, education, utilities and food.
In contrast to high-tech industry, the foundational economy is employment-intensive. It employs up to 40 per cent of the workforce through the country and the challenge is to enhance the terms and conditions of these jobs, particularly in social care and food provisioning, where human need looms large and where wages are low.
Conventional regional policy is unaccustomed to dealing with the mundane sectors of the foundational economy because it has been exclusively focused on the high visibility sectors of the knowledge economy. But a future regional policy will need to embrace both models if it wants to be smart, sustainable and inclusive.
Beyond conventional regional policy …sharing the burden of development
Expecting a single policy – regional policy – to shoulder the burden of regional development has been the biggest failing of spatial policy since the 1930s.  To remedy the problem, it should be incumbent on every institution – be it public, private or third sector – to demonstrate what contribution it is making to social and economic wellbeing in its locality.
Take two examples:
Welsh Government will need to get more public value from the public purse and from the wider public sector. One of the biggest challenges here is to hold public bodies and local authorities to account for unacceptable variations in performance. This is long overdue in the case of public procurement, where the power of purchase could be deployed more effectively to promote upskilling and local supply chains;
Universities in Wales are among the most important anchor institutions in their localities and they could and should do more to demonstrate their contributions to economy and society. For example, all Welsh universities ought to be fully accredited Living Wage employers to demonstrate their commitment to inclusive development (yet only one university – Cardiff University – is currently accredited).
Fashioning a new development model requires finance, ideas and leadership.
On the financial front, the European Structural and Investment Funds Funds currently flowing from Brussels should be transferred into the Welsh block grant.
As regards ideas, the university sector could be utilised to a much greater extent to furnish evidence as to what works where and why in and beyond the UK.
And on the leadership front, the Welsh Government will need to demonstrate more political commitment to a development model that gives parity of esteem to the knowledge economy and the foundational economy if it wants to generate more inclusive forms of development.
The first part of this blog can be foundon the Cardiff University Brexit Blog.
Kevin Morgan is Professor of Governance and Development in the School of Geography and Planning at Cardiff University, where he is also the Dean of Engagement. He is currently a member of the European Commission's Mirror Group of special advisors on Smart Specialisation.