Geographer, WLTM community organisation for fruitful research collaboration, GSOH essential
21 March 2018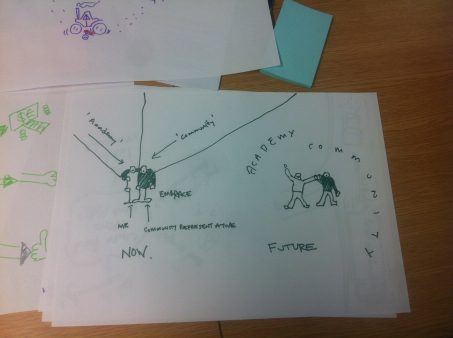 Hannah Pitt takes a light-hearted look at a Valentine's Day workshop discussing collaboration, community engagement, and the complex relationships that take place through engaged research processes.
The nature of human geography research means it involves people, which often means working with organisations who work with people. Community groups, charitable organisations and NGOs are therefore key partners and participants, for social geography in particular. The drive for research to have clear social impact makes these types of collaboration a more prominent part of academic work. Cardiff University has made a clear commitment to this through its new ambition to be recognised for excellence in its civic mission. So how well equipped are researchers for this way of working? And how should a geographer go about establishing a research relationship with civic organisations?
Many staff and research students in the School of Geography and Planning work with a range of community organisations, and have vast experiences of doing so. But we rarely take time to discuss this way of working, or learn from each other. This gap prompted a session of the Social and Cultural Geography Research Group focused on sharing experiences and identifying how we can support each other to work more effectively with third sector partners.
And what else to do during a session on 14th February, but to examine research partnerships as relationships, using a range of heart related materials and romantic word play. What is a community group's dream-date researcher? How do you fall in love with an organisation? What about a partner organisation breaks your heart? What should be in a pre-nuptial agreement between researcher and community group? And if it all goes wrong what form of marriage guidance counselling do we need?
As well as revealing the group's amazing artistic talents the session brought to light several shared experiences and concerns. A prominent challenge was managing expectations and mis-matched or unrealistic expectations between researcher and organisation. Others had experiences of having to negotiate intra-group dynamics or, at worst, conflicts. Some were concerned with knowing how to position themselves in relation to a group in order to retain objectivity whilst supporting a group's work.
Many of the issues discussed centred on the complexities of building sound relationships founded on trust and communication. Whilst the group identified that a researcher's personal skills and confidence can make a difference here, we also shared techniques which might ease the process. Suggestions included an initial meeting to share expectations, or a form of written agreement to clarify what each side will offer and receive.
Of course it is all well and good for a room of academics to discuss good relationships with community organisations, but we also need to know what they think of us. The group shared some examples of feedback they've had, but agreed we should actively seek more, perhaps through an end of project review.
The session demonstrated a clear need and appetite for this type of discussion. The attendees have committed to a resource and tool sharing session as their next gathering. Because surely no researcher wants to be a lonely heart.