Citizen-centred engagement in the Well-being of Future Generations Act: a stretch too far?
9 October 2017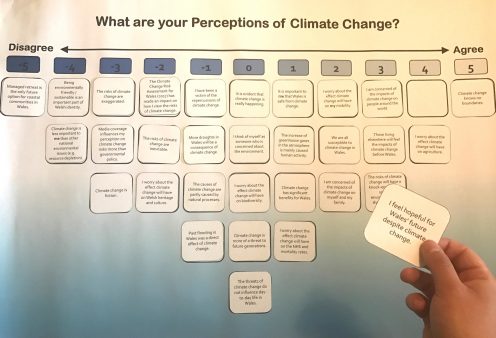 Charlotte Ford, Andrew Kythreotis and Lorraine Whitmarsh discuss the possibilities and pitfalls of citizen engagement around the Well-being of Future Generations Act.
It has become commonplace within academia and policy domains to call for increased public engagement in debates and decisions regarding environmental risk and policy.  Nevertheless, mounting evidence across the behavioural sciences and cognate social science disciplines has found that most individuals regard climate change as a non-urgent and psychologically distant risk – spatially, temporally and socially. This, in part, has contributed to limited public decision-making in climate mitigation and adaptation responses. To improve public policy-making, and greater citizen action, effective and experimental engagement needs to be at the forefront of the climate policy agenda. With climate change and extreme weather being a present, local and a personal risk – just look at the recent events with Hurricane Irma in the Caribbean – individuals and communities alike need a stronger voice for designing and implementing the institutional changes required to tackle the impacts from more extreme climatic changes.
Whilst Wales is far removed from the devastation caused across the Atlantic, this is no less a reason for the country to avoid making the necessary policy changes that can enable greater citizen involvement in climate policy. The 2015 Well-being of Future Generations (Wales) Act (WFGA) aims to improve the social, environmental, economic and cultural well-being of Wales. This, alongside the 2015 Environmental (Wales) Bill and the 2015 Planning (Wales) Bill, aims to facilitate a more collaborative citizen-centred governance approach which primarily focuses on more sustainable public engagement in pressing societal issues. Public Service Boards (PSBs) appointed by the WFGA are comprised of different stakeholders with the aim to represent the core values, beliefs and concerns of communities across Wales. Accepting that the WFGA is citizen-centred, and the public has a legitimate stake in contributing to government policy, it is of consequence that it should be citizens voices that are channelled through formal institutions like PSBs and subsequent assessments and plans. So, has this aim truly come to fruition in these early stages of the WFGA's lifetime?
At a national level the Office of the Future Generations Commissioner has carried out early analyses of the long-term issues facing Wales. To date, over 1300 people have shared their views and advice via SenseMaker, workshops and face-to-face conversations. From this, future climate impacts has been identified as one of the four priority areas that should be integrated into the seven well-being goals. Yet interestingly, community disengagement was also highlighted as an emerging priority that warrants more attention. Moreover, appointed PSB members have actioned localised work on engaging with their communities to assist the development of the well-being assessments. Methods of data collection in the majority of cases have been qualitative in nature and have ranged from forums and meetings to online surveys and stalls to publicise and take account for what matters most to individuals in their local community.
But are these softer processes of public engagement alone able to deliver the step change and type of truly collaborative governance required for the Act to be a success in tackling climate change? We are concerned that they are not, since one-off public engagement exercises do little to address the range of barriers citizens face day-to-day to mitigating and adapting to climate change, to garner support for climate policy, or to overcome deep-seated political disenfranchisement and distrust that limits public participation in policy debates. These concerns also extend to whether the initial engagement process has been diverse enough to reach all within society, and not just the select few who usually partake – often those who are environmentally conscious do so anyway. Different methodological techniques have been explored beyond conventional qualitative methods like focus groups and interviews. One such method is the 'qualiquantological' Q methodology approach to engage more stakeholders in deeper deliberation over climate risks and policies. With our ongoing research examining how climate adaptation is being governed for across Wales through PSBs, we aimed to promote and showcase how citizen-centred engagement could be improved, whilst simultaneously exploring individual perceptions of climate change risks and adaptation responses. This process included a sorting exercise of statements on climate change, and aligning them along a scale of agreement/disagreement into a forced distribution table, before later analysing the data.
Initial results have shown that community councillors (those political actors who are deemed most close to the citizen electorate) see public awareness concerning the WFGA as limited. This was also highlighted by one of our recent interviewees:
"I don't think a great deal is known by the community…I know about the WFGA and the well-being goals and what is being done. But… I am unware of any experimental engagement […] taking place, other than conventional online/letter consultation processes to generate public interest." (Councillor A, 2017)
The WFGA is underpinned by an ethos to work better together, and to involve people reflecting the diversity of our communities. Engaging the 'hard-to reach' individuals as an equal partner, valuing what they have to say, and giving them the tangible (e.g. financial) and more intangible (e.g. knowledge of localised climate change risks) resources to participate is what will make PSBs truly successful in their aim to tackle present and future climate impacts. But simultaneously, there is a need to ensure all related processes are as transparent as possible and open for two-way communication between citizens and policy-makers. In accordance with this, the majority of PSBs publish their working minutes of meetings in the public domain. But an interesting participant from our research argued that in order to be more progressive and effective, PSB meetings (are and) should be closed to the general public. The reasoning behind this was that meetings can be long and the engagement of too many actors, with conflicting agency goals at times, can be counterproductive. Although this analogy is not new in the literature, it highlights the problems inherent in implementing more inclusive engagement processes with PSBs across Wales.
It is understood that greater citizen engagement is a complex business, and the process of participation with respect to the WFGA will not be easy, partly because it requires and ultimately assumes, people have the capacity to act. But, from previous examples this is not always the case and the Future Generations Commissioner needs to address this to ensure that successful citizen-centred engagement not only focuses on present issues, but anticipates future climate impacts that will be experienced throughout the physically and culturally diverse communities we have across Wales. The Act does aim to challenge the notion of 'business as usual' – it is transformative in this sense, but it is time to move forward more boldly from conventional consultation-based citizen engagement that is more often than not, a 'tick-box' exercise. Getting public engagement right at the start of the process means restoring public trust in the governance system and empowering communities to take account for long-term impacts of climate change.
As for the WFGA, as the plans develop further there are further opportunities for individuals to get involved and join in on the conversation. In the meantime, you can be kept up to date on the progress of the Act via the Future Generations Commissioner's webpage. We will certainly be monitoring it to see how 'transformative' public participation actually is with respect to limiting the present and future risks of climate change in Wales.
Charlotte Ford (School of Geography of Planning and PLACE)
Andrew Kythreotis (School of Geography of Planning and PLACE)
Lorraine Whitmarsh (School of Psychology and PLACE)