Egypt: A Guest Blog by Linda Loganathan
11 November 2015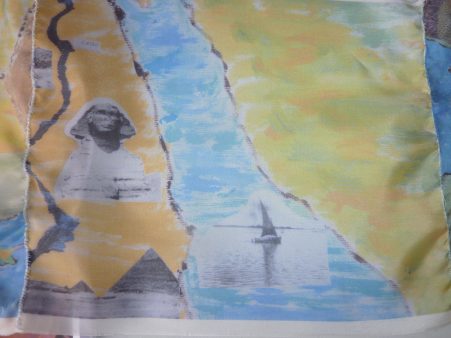 As part of the Family Archive Project, we have invited members of the public to contribute guest blog posts on how people create and use their own family archives today. Here, Linda Loganathan describes how she discovered and has used a part of her own family archive.
It all began shortly after my Father died in October 2008, when I found in my family archive some words which would change my life.
My Father had been working for many years on our family tree and shared with me his happy findings and discoveries along the way, but nothing prepared me for what I found in his papers.  There, amongst a detailed history of my paternal Grandfather's action in the First World War, I found the copy of a poem he had written named 'Egypt'.
In the last verse the poem has two lines which lodged themselves in my mind on constant replay:
'And then let wives and mothers pray

That God may keep all wars away'
With the poem, I discovered a collection of well preserved 100 year old photographs and postcards of Egypt, Sinai, Palestine and the Holy Land, some sent to my Great Grandmother, with touching but fading words from her soldier son.
I returned to Slovenia, where I was living at the time, changed in some fundamental way — these words had lit the touch paper in my creative imagination. I was the 'wife, the mother' my Grandfather was addressing.  What was my prayer?
In 2010, I returned from Slovenia to live in my ancestral home.  Out of the blue in 2013, I found myself in a craft shop buying the largest canvas with no idea at all what it was for. I picked up a pencil and began laying down the outline of Egypt and the Middle East. I began to paint the Mediterranean, the Nile and laid down earth tones. I created collage with images of Grandfather's photos and postcards and I filled the landscape with Sunflowers known to heal traumatised land and radiate the joy of the sun.
In Autumn 2013, I submitted my painting 'Egypt' in the Scholes Village Show and won third prize.  It encouraged me to continue with my joint creative venture with my Grandfather. I had been experimenting with copying my sunflower photos onto fabric and stitching them on a dance skirt.  Now I had a bright idea — I would copy the images of 'Egypt' from the canvas onto silk and make an 'Egypt' scarf.
In 2014, just after the first commemorative event of the 100th year anniversary of the First World War, at an open mic poetry night at the Chapel Allerton Arts Festival, I gave the first public reading of Grandfather's poem, wearing the silk scarf 'Egypt'.
In early 2015, I entered the 11th Leeds Peace Poetry Competition with my poem 'Egypt 2015'. It is a weaving together of my own words with Grandfather's.
On postcards from the front I read

'Dear Mother,

Cheer up, I shall be seeing you before long

So, keep the home fires burning.

Love Fred.'

The 'home fires' now crackle in my belly;

Silk fans of Sunflower gold ignite the flames of my Dance.

'And then let wives and mothers pray

That God may keep all wars away.'
Linda Loganathan is a conscious dreamer, dancer, writer, multimedia artist, grandmother and gardener.  She is a weaver of ancestral healing for beauty, joy and peace.
Linda is the author of The Story Garden with the New Earth Rhymes for Children and Tender Peace, 10 Moon, Tree and Flower Meditations for Mother and Baby.
---
Comments