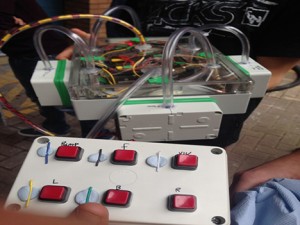 The Babcock design, make and test challenge
by Emily Christley (Y2 IEN), Tim Erskine
(Y2 EEE) and Dominic Borthwick (Y2 EEE)
 During week 11of last academic year, IEN and EEE first year students completed their design, make and test (DMT) activity as part of their Engineering Applications module. Babcock Engineering, a very large engineering company active in defence, energy, telecommunications, transport and education sectors, came in to oversee and facilitate activities for the whole week. Four Babcock engineers travelled from the Royal Navy Dockyard in Devonport (where their usual day jobs are servicing the Royal Navy's fleet of nuclear submarines) and assigned students with the task of building prototype submarines for use as a school demonstration tools. Each team of eight students was given a name relating to a catastrophic engineering failure as a reminder of the engineer's responsibilities for their user community's safety. Babcock ran the activity as a simulation of a real engineering project. They were the customers and teams were the contractors. Daily meetings between team project managers and Babcock engineers gave the week a very professional feel. Students were challenged to think far beyond their technical challenges and into the business of customer communication and product marketing.
So the task began….
Designs were drawn up. Many a head was scratched. Calculations were undertaken. Much ballast was weighed. Hundreds of wires were soldered. Submarines were made (mostly) watertight. Presentations were written. Presentations were performed. Prototypes were tested. Prototypes were submerged; some resurfaced, many more sank.
Team Senna managed to clinch first place with (and here's some advice for current year-1 students) a combination of consistent professionalism at meetings with Babcock, insight into customer desires, a simple but working prototype, and a well-polished presentation. The task was not simply to produce a model submarine, but to make a device for inspiring the next generation of engineers. The team took this to heart by making their product interactive and theming their presentation around this inspiration. One teammate's younger-self even made an appearance on the slides!
All agreed it was a very enjoyable and rewarding week, demonstrating team work, communication and problem solving skills. The task was an enthusiastic simulation of engineering ambition. Babcock were extremely generous in their support of what turned out to be an excellent learning experience and a great chance to work with students from across the IEN and EEE courses.