Language and Law Seminar
13 November 2022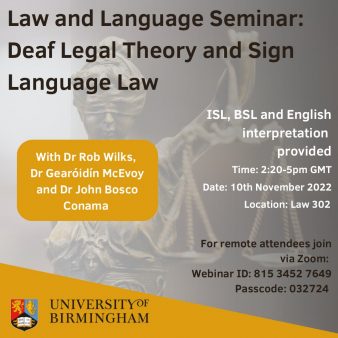 On Thursday 10 November 2022, I was delighted to have the opportunity to re-introduce Deaf Legal Theory (DLT) to the world at the University of Birmingham's Language and Law Seminar, a hybrid seminar held at the Law School and on Zoom.
This seminar aimed to discuss DLT in the context of Sign Language Law, and my talk was followed by Dr Gearóidín McEvoy (University of Birmingham) and Dr John Bosco Conama (Trinity College Dublin).  Dr McEvoy explored sign language law in the UK, Ireland and Finland, and Dr Bosco Conama focused on the Irish Sign Language Act 2017.
This was the first time DLT was discussed within the context of Sign Language Law since it was introduced as a concept in Bryan and Emery's (2014) seminal chapter and mentioned at the talk I gave at the Deaf Academics Conference in Copenhagen in 2017 during which I applied DLT to equality law.
The seminar was attended by 8 people in person and over 70 online via Zoom, and many questions and comments were put forward by delegates which were appreciated, as it means DLT can be further developed and more exposės encouraged.
The recording of the seminar will be displayed here once available.
References
Bryan, A., & Emery, S. (2014). The case for Deaf legal theory through the lens of Deaf gain. In H.-D. L. Bauman & J. J. Murray (Eds.), Deaf Gain: Raising the Stakes for Human Diversity (pp. 37–62). London: University of Minnesota Press.
Wilks, R. (2017). Why equality law and Deaf people don't get on: developing Deaf Legal Theory' [Deaf Academics Conference, Copenhagen, 10-12 August 2017].
Search this blog
Please note: the term 'deaf' means all deaf people*, to indicate positive affirmation of their identities; and as a celebration of individual and collective talent.
* D/deaf, Sign Language Peoples, Deafblind, hard of hearing