Creative Cardiff hub consultations in the Vertical Studio
6 May 2016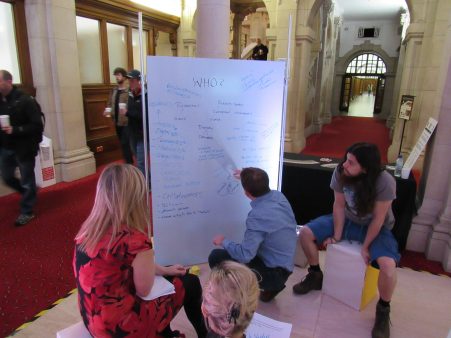 In contrast to the book launch of Tuesday evening, or even the student-led Show & Tell of Monday evening, Wednesday brought a more participatory sort of event: a pair of consultation sessions run during the daytime that attempted to explore the need for, and interest in, a new creative hub space in the city.
The architecture student team understood the value of putting on a Vertical Studio space for us that would allow the participants to sit lower and closer, to move frequently, gather together as well as split apart. In this way the communicative and creative logic of the consultations was facilitated by the arrangements of the people taking part. To help in our idea-generating endeavours, the architects provided a large number of coloured boxes for people to sit on, which had the double advantage of allowing the necessary flexibility for group work, while also having a suitably playful appearance for the intended mood of the sessions.
After a short introduction from Sara Pepper to the university's ambition to open a creative hub, the participants coalesced into three sub-groups to brainstorm. Despite the unorthodox furniture they seemed, if anything, more comfortable than they would have been on the chairs previously deployed. The size of the attendance was ideal as this enabled each of the three sub-groups (respectively tackling "who?", "what?" and "where?") to number four or five participants, including a member of the Creative Cardiff team to facilitate. Ideas were shared around and written up on whiteboards that occupied the corners of the arena, somewhat echoing the orientation of Monday's Show & Tell.
The event was naturally more related to the city of Cardiff than the ones that had preceded it, taking an intensely personal and lived-in view of the city. In the end, the three whiteboards were crammed with ideas with hardly a space to be seen, which undoubtedly reflects the interest that this project sparks in the minds of local creative people.
Lisa Matthews joins Creative Economy
We're delighted to welcome Lisa Matthews on secondment from the Arts Council of Wales into the role of Director of Creative Economy, as Sara Pepper's maternity cover. Lisa brings a wealth of skills and significant experience to the team.
'Find out how we support collaboration with Cardiff's creative industries.