Why you study with us….
6 March 2017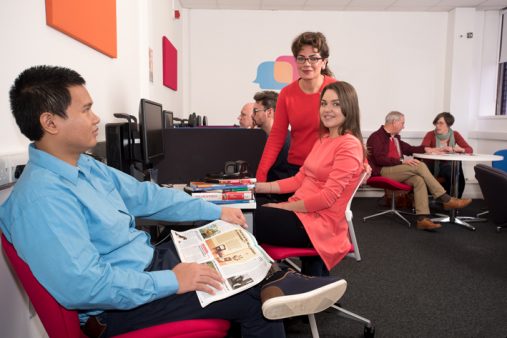 We recently asked our students to volunteer for a photoshoot.  We regularly need photos for our Choices prospectus, for our website and social media.  Thankfully volunteers come forward as they want to help us promote our courses or as one student put it "to give something back!"
The photoshoot was also a good opportunity to gather student feedback and testimonials so here is a taste of why people choose to study with us, what they achieve and why they would encourage everybody else to learn too.
Ekaterina Kulit has taken Public Service Interpreting and believes the course had: "Useful information and encouraging and supportive teaching". Her advice to others "It's never too late to start to do something you've been dreaming about all your life".
Lex Lamprey has studied with us for many years including Astronomy and Exploring the Past (pathway to a degree in History, Archaeology or Religion) modules and he believes he has gained "A sense of confidence in my own ability in my chosen subject areas. I've also met some incredible people and have made lifelong friendships.  The level of knowledge of the tutors is often extraordinary.  Some of the assignments have been challenging but I wanted a challenge when I signed up and that's what I got"
Jane Lorimer has studied Edible Landscaping and Social Studies courses: "As a result of the Edible Landscaping course I completely re-planned my garden.  Three years on and I'm enjoying the fruits of these labours – literally!  Doing the Social Studies course made me realise that I had skills which were underused and I am retraining in the health/wellbeing sector."  Jane would encourage others as: "Initially I was put off by thinking I didn't have time to study as well as having a full time job, I'm sure others feel the same.  But increasing the diversity of out of work activities is very rewarding.  It's fun learning new skills!"
If you would like to join Ekaterina, Lex and Jane and learn something new then we have many courses starting this April including:
Archaeology and Battle of the Sexes
Using MySQL with PHP for the Web
The French Revolution – the Greatest of all Revolutions
Professional Conduct in Public Services Interpreting
Digital Culture, Digital Lives