Study archaeology and unlock your potential
19 December 2017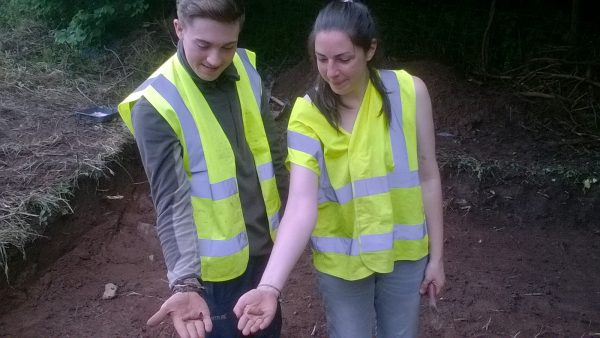 Elizabeth Davies (Liz) was a stay at home mum when she decided she needed to kickstart her future.  With a keen interest in History and Archaeology she approached Cardiff University to find out the entry requirements for studying an undergraduate degree and was pleasantly surprised to discover the Exploring the Past pathway.  Liz is now in her final year of an undergraduate degree in Archaeology and Ancient History and hopes to become a Secondary School teacher soon.
"I was delighted to learn that Cardiff University offered a pathway specifically for adult learners which I could study in the evenings around my family commitments.
I studied the three core modules, Exploring History, Exploring Archaeology and Exploring Religion, as my interests were broad and I wasn't sure at that stage which subject I wanted to pursue. I also took three optional modules which allowed me to follow my interests and study some fascinating subjects, including Ritual, Folklore and Minoan Crete – subjects I would never have been able to study on an A Level or Access course.
The tutors were highly qualified, but totally approachable and laid back. Every session was varied, in depth, challenging but accessible. The structure of the pathway is designed to reintroduce academic writing and study skills to those who may not have studied for years, a decade in my case. Essay planning, grammar and referencing are all thoroughly covered, and by the end of the pathway, I felt completely prepared for undergraduate study.  In addition to all of that, the tutors are hugely supportive, and offer help with UCAS applications and funding advice. And the people I met on the courses were fantastic – you'll meet people of all ages, all walks of life, and all of them determined and passionate.
I've got my life back – I'm not 'just' a mum any more, I've got something to get my teeth into, something to get excited about. I've achieved and experienced so much already, and I'll be graduating this summer. I've made friends who will be with me for life – there's a great mature student community at Cardiff University and the younger students are lovely too. And I've gained the confidence and determination to push forward and start making decisions about my future after university.
Have courage, push yourself, trust in your own abilities, you will do better than you ever thought possible and you'll never regret it."
If you have been inspired by Liz's story then you may enrol on Exploring Archaeology which starts 17th January 2018.  If you need advice, please ask Dr Paul Webster (Exploring the Past Co-ordinator) who will be available at our friendly drop-in session 10th January at 12.00 noon to 2.00pm.  Alternatively email Paul, who will be happy to talk to you about how to follow a similar journey to Liz and realise your dream to return to study.
Pathways are available in a range of subjects
.