Pathway students welcomed to the School of Social Sciences
27 October 2015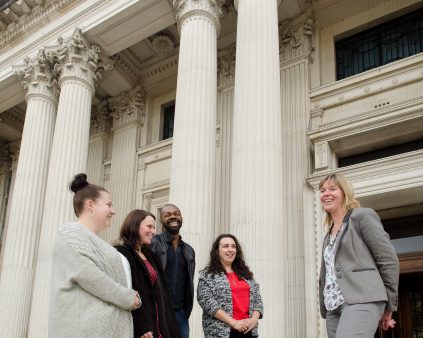 We love sharing feel-good stories of our amazing adult learners who achieve their life long ambitions. This is one of those great stories that makes us proud to be helping adult learners, who often have no previous qualifications, to study at degree level.
In September this year we celebrated the acceptance of a cohort of former Pathways to Social Science students as undergraduate students to the School of Social Sciences with a Welcome Day.
The Head of the School of Social Science, Prof Amanda Coffey, officially welcomed six of our former students who had spent a year studying part-time social studies modules with us. At the Welcome Day, she said: "I am delighted to welcome a new cohort of Pathway students into the School of Social Sciences. It is particularly pleasing to see that the opportunities provided through the Pathway modules enable adult learners to access degree level studies with confidence and enthusiasm."
It's great that they've achieved their ambitions and have been accepted onto undergraduate degree schemes at University. One of our former students, Alysha Sammut had some great things to say about the Pathways to a Degree programme: "I couldn't believe you didn't need any qualifications to do it!  It has been brilliant!  I have made lots of friends and the subjects have been very interesting".
We echo Jan Stephens, Co-ordinator of the Pathway to Social Science's comments –
"I wish all former pathway students starting undergraduate degrees this semester the best of luck!  All the hard work and commitment has been worth it as the students take a step closer to achieving their undergraduate degrees.  Well done everyone!"
To find out more about out Pathways to a Degree visit www.cardiff.ac.uk/learn/pathways