Not an Ordinary Life…
21 September 2016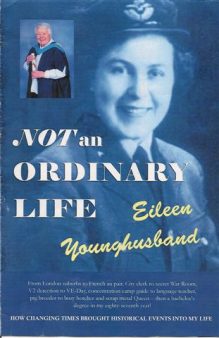 It was with great sadness we heard about the passing of Eileen Younghusband on Friday 2nd September 2016 at the age of 95.  A supporter of adult education and former student, Eileen was a regular visitor to Continuing and Professional Education (or the Centre for Lifelong Learning as she knew it).  Her legacy will be her life story which thankfully she recorded when she published her three books.  Eileen was an inspiration to all who knew her.
Born in London in 1921, Eileen Le Croissette joined the Women's Auxiliary Air Force (WAAF) at 18 years old.  The WAAF quickly realised her mathematical skills and sent her to work in the top secret filter room during World War Two, the hub of Britain's air defence, which processed information from coastal radar stations to give air raid warnings and enable the RAF to intercept German bombers. Eileen went on to be part of a team tasked with detecting the location of Hitler's V2 rockets which were devastating London.  She later told an interviewer at the BBC:
"Our job was to extrapolate the curve of the V2 from the place it landed back to the launch site, and we did that once we knew the fall of shot and we got the position of the top of curve, we then used a slide rule in geometry to find the launch site. And they managed to destroy them all by the end of February, beginning of March, 1945."
Following  VE Day she was seconded to the Breendonk  concentration camp in Belgium, where she acted as a guide and interpreter (she was a fluent French speaker), relaying to RAF personnel the realities of war.   She resigned her commission on 14 December 1945.
A life-size figure of Eileen as a 21-year-old WAAF officer stands in a replica of a filter room at the Battle of Britain Museum at Bentley Priory.
After the war Eileen met and married Peter Younghusband and they went on to have one son Clive.  They spent most of their married lives working in hotels and catering in England and in America. Unfortunately Peter passed away in the 1980's and Clive suffered a fatal heart-attack when he was just 50 leaving his mother devastated.  She often mentioned her grand-daughter Tiffany with great affection and she must have been so pleased when she recently became a great-grandmother to Colin Clive.
She moved to Wales in 1984 and enrolled on her first course at the Centre for Lifelong Learning in 1996 at the age of 75 and went on to study an incredible 46 part-time Creative Writing and Spanish courses. Her academic achievements include being awarded the Departmental Prize in 2008-09 for Creative Writing, three Certificates of Higher Education awarded in 1998-99/2006-07/2007-08, Certificates of Advanced Study in Spanish and Creative Writing in 2003-04 and also a Diploma of Higher Education in 2003-04.  She was a great supporter of adult education and supplied testimonials to try and help us promote our courses.  In 2008 she wrote:
"Having missed the possibility of attending University in my youth due to serving as a WAAF Officer in World War Two, I joined the Cardiff Centre for Lifelong Learning to study Spanish and Creative Writing. I gained a Diploma in Higher Education at the Centre and have now managed to achieve my ambition and to graduate as a Bachelor of Arts with the Open University.
I cannot speak too highly of the Cardiff Centre for Lifelong Learning. The encouragement and support which I have encountered throughout the Centre both from tutors and support staff has been magnificent. Furthermore, I have managed to meet and make friends with so many interesting people. Without doubt, my quality of life has been improved by taking part in Lifelong Learning programmes."
This affection was returned as many colleagues have commented on how much they both admired Eileen and enjoyed her company.  Creative Writing Tutor John Greeves commented:
"I know many of us had the privilege of having her in our classes and know how she went on to write three inspired books about her war time experiences. I used to joke with her that she had a better social life than many of us, being carried off by helicopter to various places or appearing on TV for the up-teem time. She was a great advocate for Continuing Professional Education and went on to gain a degree in her senior years. She will be greatly missed."
After completing her degree from the Open University in 2008 she published her autobiography, Not an Ordinary Life, the following year.  Eileen's second book, Men I Have Known, charts her life through the extraordinary men she had known up to the age of 91 – from Rex Harrison and Dylan Thomas to members of NASA and Idi Amin.  Her final book Eileen's War adapted her wartime memories for children and was completed just a few weeks before she passed away.  The importance of this childrens' book has been emphasised by Dr David Wyatt (School of History, Archaeology and Religion, Cardiff University), a good friend of Eileen's:
"Before she passed away Eileen finished one last remarkable book Eileen's War for young people relating her life and experiences to the next generation, a truly fitting legacy – if you've got kids then get them a copy, if you haven't got kids then get a copy for yourself…"
In 2013 Eileen who had always been passionate about lifelong learning was awarded a British Empire Medal for campaigning against cuts in adult education in Cardiff.  After receiving the letter from the Home Office Eileen commented:
"The letter from the Home Office stated that I had been put forward by Lifelong Learning at Cardiff University, it was a complete shock and a great honour".
We are pleased that Eileen received well-earned acknowledgment for her contribution to adult education.  She really was an inspiration to all who knew her and she became a firm favourite here at Continuing and Professional Education.  We would often hear of her being interviewed for television and radio where she could record and transfer her experiences of WW2 as widely as possible.  We are sure you will agree that she did not have an ordinary life as she contributed so much to so many people and she will be greatly missed.