Meet our Pathways Students
5 December 2016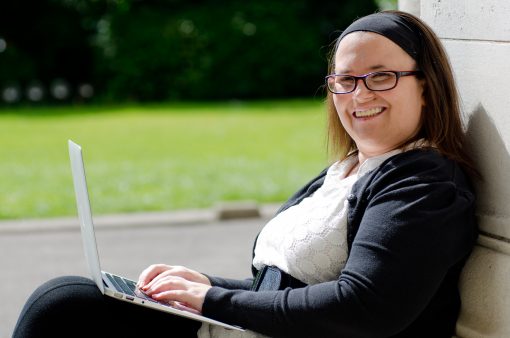 With the Pathway to a Degree Open Day in January, we thought we'd share with you what it's really like to embark on a Pathways programme and spoke to one of our Inside Narratives students (Pathway to a Degree in English Language, Literature & Philosophy), Tammy Davies about her journey with Continuing and Professional Education.
"I was working through a series of dead-end call centre jobs and temporary administrative positions that left me worried about job security on a daily basis.  In 2013, Continuing and Professional Education launched Inside Narratives, the Pathway to a Degree in English Language, Literature & Philosophy. This is something I'd always dreamed of doing back home in Canada but it hadn't been an option for me when I graduated from High School.
In my case, the Pathway, consisting of six modules studied over six months, prepared me for the level of academic knowledge required when I started my degree at Cardiff University.  I was terrified about embarking on a three year journey into Higher Education as I had not been at school for over 20 years!  The 60 credits I had earned on the Pathway carried over into my first year of degree studies so I only had to choose a further 60 credits, helping to ease me back into education.  The personal tutors, module leaders and my fellow students at Cardiff University were so supportive and encouraging that I really had nothing to worry about, in the end.  I've made friends as an Undergraduate that I know will be friends for life.  I'm currently halfway through my final year and excited about the opportunities and new career options open to me that were never available before I studied with Continuing and Professional Education."
Tammy S Davies.
If this has inspired you to think about studying for a Pathway to a Degree, come along to the next Open Day. We offer part-time programmes in a range of subject areas:
Accounting
Business Management
English Language, Literature and Philosophy (Inside Narratives)
Journalism, Media and Cultural Studies (Our Media, Our World)
History, Archaeology and Religion (Exploring the Past)
Modern Languages (French, German, Italian and Spanish)
Politics and International Relations
Social Science
Translation
Healthcare
Date: Wednesday 11th January 2017
Time: 12.00 – 2.00pm
Location: Cyber Cafe, Continuing and Professional Education, 21-23 Senghennydd Road, Cardiff, CF24 4AG
If you can't make the Open Day but would like more information please call 029 2087 0000 or email learn@cardiff.ac.uk.