Get involved in archaeology and local history with the CAER Heritage Project
25 February 2016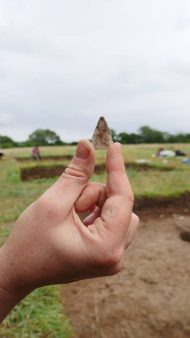 Do you love watching Time Team or did you have childhood dreams of becoming Indiana Jones? Well then you'll be interested to know that there is archaeology going on right in your back garden. What's more, you can even volunteer to get your hands (and trowels) dirty yourself.
Nestled within local housing estates on the western edge of Cardiff, Caerau hillfort is one of the largest and most impressive hillforts in south-east Wales. Over 2,000 years ago it was the residence of an important and powerful Iron Age community, who inhabited this part of Wales before the arrival of the Romans.
The Caerau hillfort is at the heart of a community project with archaeology at its core. The CAER Heritage Project was established in 2011 by archaeologist Oliver Davis, community development worker Dave Horton, and medieval historian Dave Wyatt (School of History, Archaeology and Religion, Cardiff University). The project works with the communities of Caerau and Ely to explore the area's rich heritage and address contemporary challenges facing these communities by involving local people of all ages. To date people from all walks of life have worked on the project, including school pupils, young people facing exclusion, long-term unemployed and retired people.
There have been three major community excavations at Caerau's magnificent Iron Age hillfort in 2013, 2014 and 2015. The community has played a vital role in helping to excavate the site and also produce and influence geophysical surveys, museum exhibitions, adult learners' courses, art installations, creative writing, dance performances, banner processions, history projects, film-making and the creation of heritage trails.
It is fascinating to know that there is so much rich history right here in Cardiff and that you could be part of discovering more of our ancient history! The community excavations at the site to date have yielded pottery and a mass of finds, including 5 large roundhouses, which have revealed dense occupation of the area during the Iron Age. There's also excellent evidence of Roman and medieval activity.
Adult learners from our Exploring the Past (Pathway to a Degree in history, archaeology and history) programme have been involved in this amazing project through one-week dig placements. It's a great opportunity for our students, who often have no previous qualifications, to get hands-on archaeological experience. They have contributed hugely to the project and helped with significant findings, including the recent discovery of flint tools and prehistoric pottery that indicate that Caerau has been occupied from as far back as the Neolithic – thereby predating the construction of the Iron Age hillfort by several thousand years; an exciting discover for amateur and seasoned archaeologists alike.
This year the CAER team have applied for funding and permission to explore the area's medieval past at a different site in Ely. If they are successful, they plan on inviting more members of the community to get involved. To find out more about the CAER Heritage Project and how you can get contribute, please visit their website.
If you would like to find out more about studying for an undergraduate degree in archaeology (or history and religion) without previous qualifications, please visit our Exploring the Past webpage.
---
Comments