Former Pathway Students Celebrate their Graduation
18 July 2016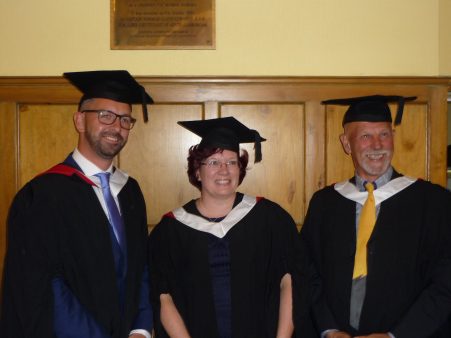 An innovative Cardiff University scheme offering people a way back into education celebrates its second group of graduates this year.
In a fantastic achievement, the pathway students will graduate for the first time in Archaeology and in Ancient and Medieval History alongside History, completing studies of between four and six years that begin with the University's Pathways study option.
Many of this group of trailblazers are setting their sights higher still, starting master's degrees later this year.
* Thomas Allen is the first pathway student to graduate in Archaeology.
* First ever Pathway student, mum Hayley Bassett, who achieved a first-class dissertation as part of her BA in Ancient and Medieval History, is continuing as a postgraduate on Cardiff's MA in Medieval British Studies.
* History graduands Penelope Bestic and Alana Carpenter have achieved first-class dissertations.
* Top among his peers within History, Daniel Jewson has been awarded Wellcome Trust funding to pursue a master's degree in Medical History at Exeter University. Currently research assistant for an Arts and Humanities Research Council funded project on the history of Ely, Daniel's research on Voices of the Home Front has been accepted for presentation at a forthcoming National Archives conference in London.
Exploring the Past has been developed to help adults realise their ambition to study history, ancient history, archaeology or religion at degree level.
Pathway Co-ordinator Dr Paul Webster, Lecturer in Medieval History, said: "Everyone involved with Exploring the Past and the School of History, Archaeology and Religion is absolutely thrilled with the success of Alana, Dan, Hayley, Penni and Tom.
"Their inspirational degree results are a tribute to all their hard work and commitment since they returned to study on the pathway. All of them have overcome significant barriers and attained excellent degrees, proving that it's never too late to take that life-changing step and enter higher education. We wish them all the very best for ongoing success with their future endeavours."
Pathways are taught and assessed in similar ways to first year undergraduate degree courses. Regardless of previous qualifications, students initially study part-time for one year, with successful completion of the pathway guaranteeing an interview for a place on either a part-time or full-time degree.
Anyone interested in the Exploring the Past Pathway can find out more on the website or by contacting Dr Paul Webster or Continuing and Professional Education.
Exploring the Past is one of ten pathways available from Cardiff University's Division of Continuing and Professional Education.