Celebrating Achievement at Our Awards Ceremony
30 March 2016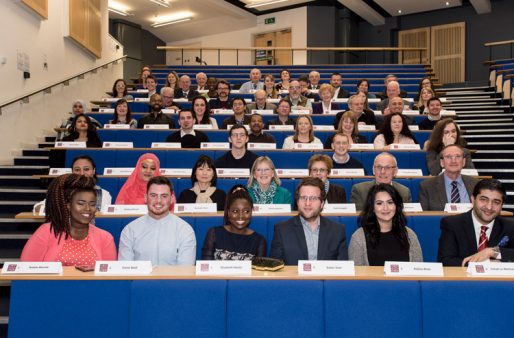 On Friday 11th March we celebrated student success at our Annual Awards Ceremony.  Over 180 guests attended the special event and 63 students received certificates, awards or prizes.  The ceremony is an opportunity to celebrate student success whilst highlighting the breadth of activity that Continuing Professional Education (CPE) provides.
We provide over 400 part-time courses every year in a wide range of subjects including: Business and Management, Computer Studies, Humanities, Modern Languages, Politics and International Relations/Law, Science and Environment and Social Studies.  We also offer a variety of pathways for adult learners wishing to access undergraduate degrees at Cardiff University.  Many of our students use credits gained from each module (part-time course) to gain a qualification.
With 60 credits at Level 4 or 5 within one subject area you could gain a Foundation Certificate.
With 120 credits at Level 4 or 5 you could receive a Certificate of Higher Education.
With 120 credits at Level 5 completed in pre-defined 60-credit study blocks you could gain a Diploma of Higher Education.
With 60 credits at Level 4 from specific Pathways, you could go on to study at degree level.  Current subjects include: Accounting and Finance, Business and Management, History, Ancient History, Archaeology, Religion, Modern Languages, Social Science, Translation, Journalism, Media and Cultural Studies.
Students mingled with academics and tutors at the Cheese and Wine Reception beforehand.  They were joined by friends and family and enjoyed the violin performance provided by Xenia Porteous.  There was a warm and welcoming atmosphere and students took the opportunity to comment:
"Excellent evening, excellent organisation! Great to have families invited!"
"Meeting my friends again and receiving my certificate was fantastic!"
"A really pleasant atmosphere – warm, generous and respectful.  It all went like clock-work and I loved the violin!"
We congratulate all our students and awardees and we wish them good luck for the future!