A Story to Inspire
20 January 2017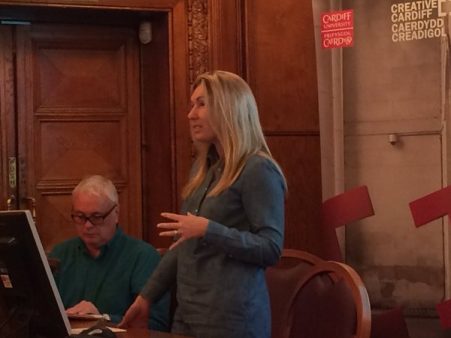 Senior Lecturer in Social Sciences (Psychology)
School of Social Sciences, Cardiff University
After leaving school with few qualifications, I worked in a range of jobs from factory production lines, to cleaning and retail. When I had my two children, I did similar part-time work but also started to take local community courses just out of interest. I had tried most of what was on offer locally from computers to salsa, when I saw a counselling course at my local high school.
It was a fascinating course and I was interested to continue but part-two was going to be held at Cardiff University. I couldn't drive and had no idea where the university or Senghennydd Road was but I wanted to learn more, so I found the way. This course led to many more at Continuing and Professional Education (formerly Centre for Lifelong Learning) where the tutors were really supportive and encouraged me to apply for a full-time degree at Cardiff University.
I began a degree in Psychology and Education. It was difficult balancing motherhood, work and study, and being much older than most of my cohort, but tutors from the Centre still offered support. After my degree, I got a funded place to study a Masters in Social Science Research, followed by a PhD. During this time I gave talks to students at the Centre about studying a degree and then came full circle, when I became a part-time tutor there, teaching the same courses that had been so central in my own journey.
I really enjoyed teaching and meeting so many students, then when I got my PhD, I got a post at the School of Social Sciences as a Lecturer.
I am now a Senior Lecturer and my time is split between teaching, research and writing. I recently edited a new collection for the University Wales Press (2016), 'Our changing land: revisiting gender, class and identity in contemporary Wales'; and wrote a sole authored text for Routledge (2016), 'Visual, narrative and creative research methods: application, reflection and ethics'. My research has focused on class, education, gender, generation, motherhood, and national identity; and I have a particular interest in inequality and marginalised communities.
Recently, I was Principal Investigator on a Welsh Government funded project exploring the educational experiences and aspirations of children and young people who are care experienced in Wales. This was a great project as it provided a chance for young people to talk about what they wanted to change. The research findings have influenced government policy, and practice; and they have been made into short films, artwork and music videos to help get these messages across to diverse audiences.
I would never have applied to university without the local community courses offered by Continuing and Professional Education and they are essential if universities want to widen participation and attract mature and non-traditional students. Students I spoke with and taught previously at CPE and out in the community, have now gone on to study degrees and PhDs, teach and to carry out research projects, and it is fantastic to see them doing so well.
Looking back on my learning journey, some of my most enjoyable times, both teaching and learning, were at CPE. I now run a mature students Coffee Club at Cardiff University so that students (just like I was), will always have a support system and opportunities to make new friends if they decide to go on to a full-time degree. There are lots of great courses and the Pathways to a Degree offer a range of subjects. If you are thinking of trying something new, this could be the start of an inspirational journey.