Scriptwriting success for former student
19 July 2016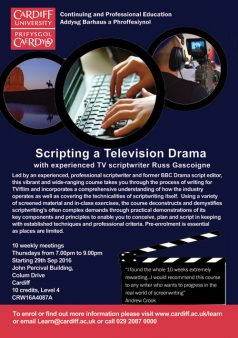 To highlight the bread of courses we have on offer with Continuing and Professional Education at Cardiff University, this week we will be focusing on Scripting a TV Drama.
Another writer from the course is in line for a first broadcast credit later this year when her short film 'Leonard's Neighbours', produced by local company It's My Shout Productions, is shown on BBC2 Wales. This continues a steady stream of such successes from the course and from the Scriptwriting Workshop Online on which writers get one-to-one guidance rewriting scripts on which they are working. Students, many of them with little or no previous experience of scriptwriting, have gone on to be shortlisted in numerous scriptwriting competitions, both national and international, to make their own films (a full-length feature film in one particular case) and gain both professional scriptwriting credits and representation by TV/Film agents. Other students have created blogs, set up podcasts and gained prestigious work placements within the TV/Film industry.
The Scripting a TV Drama course is taught by professional writer Russell Gascoigne whose credits include the BAFTA award-winning, top-rating A Touch of Frost and who has also worked as both a BBC Drama script editor and as a script consultant for numerous film and television companies, including the Movie Acquisition Corporation and European Script Fund. It is a practical, wide-ranging and comprehensive course, based on professional practice and is focussed on an understanding of how the television industry works as well as the technical process of scriptwriting itself. The classes are varied, vibrant and stimulating and taught in a friendly and supportive environment. Just bring imagination, ideas… and ambition.
Go to the Continuing and Professional Education website to see the full range of courses we have on offer and sign up today on the 2016/17 programme.