When Ali met Colin
4 February 2016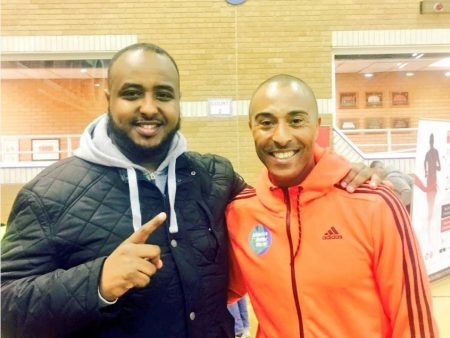 On Saturday 30th January our very own Partnerships and Facilities Manager Ali Abdi met Welsh athletics star Colin Jackson at a motivational training event for novice runners who are about to attempt the IAAF Cardiff World Half Marathon. The event took place at the Talybont Sports Training Village where Colin gave an inspirational speech, answered questions and put the runners through their paces with a 40 minute training session.
To celebrate the theme 'Healthy and Active Grangetown' Community Gateway has provided 50 residents with a free place in the race and is supporting the runners with a full training programme and access to an exclusive running support network at Cardiff University.
Ali said of the event:
"I had a great time meeting with other ABW500 (Athletics for a Better World) members who like me are not experienced runners and looking at the IAAF Cardiff World Half Marathon as a kick start to keeping physically fit and healthy.  The morning started with an inspirational and motivational talk from Colin Jackson, followed by some questions and answers and then a 40min jog which as a group wasn't too bad in terms of encouragement to continue and finish. The event also gave me an idea of what the actual day of the marathon will be like but on a much smaller scale than 25,000 people."
Good luck Ali and all the Grangetown runners!
Also this week  the Community Gateway team had a really successful meeting with partners to discuss the refurbishment of the Grange Bowls Pavilion. Work will commence in a couple of weeks with an opportunity for  local residents to volunteer and get involved with different aspects of the renovation. There will also be an opportunity for students studying construction at Cardiff and Vale College to put theory into practice by getting involved with the revitalisation of the bowls pavilion – an exciting time for all!
For more information on the Grange Bowls Pavilion and how to get involved please click here.