Community Garden: local residents get stuck in
18 February 2016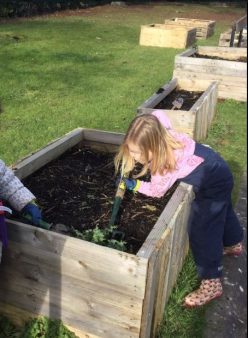 On Tuesday 16th February we held our second community garden session at the Grange Bowls Pavilion which involved planting, digging, making and painting flower beds.
A number of people from the local community came along and got stuck in to plant an array of different flowers and vegetables in the raised beds that were created at the last session.
The sun was shining and a lot of fun was had by all – especially the children who got covered in mud and paint!
So far we have planted onions, red onions, beans, and garlic and have even started a potato party which involves a competition to grow our own potatoes and compare the results at the Grangetown festival on the 18th June.
The next community garden session is happening on Friday 26th February 10-1pm and will involve more planting and maintenance of the raised beds guided by volunteers from Grow Cardiff and Eggseeds. Everyone is welcome – come along!