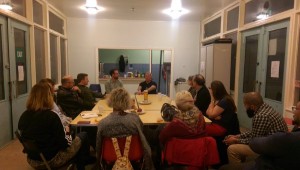 The Philosophy Café, as part of the key theme 'Communication without Barriers' has got off to a fantastic start in 2016 with an ever growing cohort of members. The group meets once a month at various venues around Grangetown to discuss topics such as 'What is it to be a good citizen?' and 'What is the good life?'
This month the group had a visit from critically acclaimed author of The Philosopher and the Wolf Mark Rowlands and had a lively discussion about animals and morality. The session was well attended by residents from around Grangetown and throughly enjoyed by all.
At Community Gateway's consultation event #LoveGrangetown on Saturday residents were asked to suggest themes for upcoming Philosophy café's and a number of interesting topics were submitted including 'Is it our moral duty to help refugees in need?' The sessions are free and open to all so please come along, a date and topic will be announced in due course.
We look forward enormously to the next session!
For more information about the Philosophy café or any of Community Gateway's other projects please contact us: communitygateway@cardiff.ac.uk  or follow us @CommunityGtwy