PRAM Study Dissemination Event
22 May 2018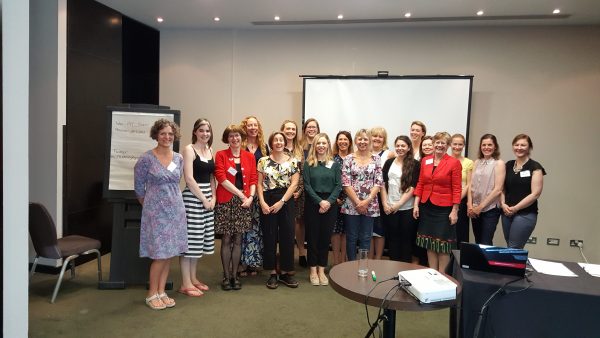 The PRAM Study Dissemination Event
As part of the dissemination of our study findings on 15 May 2018 in Park Plaza, the PRAM team welcomed 19 researchers and practitioners from across the UK to a research day on obesity in pregnancy and the post-natal period at the Park Plaza in Cardiff.
PRAM is a feasibility study of the use of individualised weight charts for weight monitoring in pregnancy funded by the Burdett Trust for Nursing, run through Centre for Trials Research and the School of Healthcare Sciences Cardiff University. The team is led by Professor Julia Sanders and includes Elinor Coulman, Rebecca Cannings-John, Mandy Isles, Sue Channon, Cheney Drew, Bethan Philips, Billie Hunter and Lucie Warren. Cardiff & Vale University Health Board was the PRAM study site where it was co-ordinated by midwives Helen Davies and Sarah Northam.
Julia Sanders Opens
Julia opened with a broad outline of the aims of the day: we wanted to bring researchers working in the area together and to have a whistle-stop tour around the different research projects taking place in the four home nations, providing an opportunity to form new collaborations and develop ideas about the research priorities for the future.
Diverse Presentations
There was a really diverse range of presentations covering many different aspects of obesity in the pre, during and post pregnancy periods. Looking at the preconception phase, Laura McGowan (Queens, Belfast) presented work on men and womens' views of health practices before trying for a baby and Laura highlighted a recent Lancet series that brings together the work in the pre-conception period; There were three presentations looking specifically at interventions during pregnancy to reduce weight gain: PRAM which included women across the weight categories and introduced individualised weight charts to self-monitor weight gain; Dunla Gallagher (Cardiff) described the Healthy Eating and Lifestyle in Pregnancy Trial (HELP) and her two year follow-up of mother and child outcomes and Annie Anderson (Dundee) presented 'optiMUM', an embedded midwife delivered weight management intervention, both of which were for obese pregnant women.
Post-Partum Period
The post-partum period was the focus for Debbie Smith (Manchester University/ Leeds Trinity) who used qualitative methodology to explore the breastfeeding behaviours of women with BMI over 30 and Michelle McKinley (Queens University, Belfast) who described a text message intervention to support postpartum weight management in the Supporting MumS pilot study (SMS). Elinor Olander (City University) presented her recent work with young women under 20 and how to support them to eat healthily and keep active during and after pregnancy. Rachel Rowe (NPEU, Oxford) presented results of the UKMidSS study into intrapartum related risks for severely obese women planning births in alongside Midwifery Led Units. Ewelina Rogozinska (Queen Marys London) is conducting an individual patient data meta-analysis of randomised trials to increase our understanding of the findings of over 100 RCTS on the effects of diet and lifestyle interventions in pregnancy.
Where Next?
Sharon Simpson (Glasgow University) rounded off the presentations with her reflections on an area she believes has been neglected in studies so far which is the impact of social networks on individual's behaviour and how we may be able to harness the social network to support change.
Group Discussion
The latter part of the day was spent in group discussion, drawing out the themes and thinking about where next in terms of research. Some of the studies highlighted difficulties with fidelity and weight monitoring by midwives which raised the issue of role responsibility and whether there are others such as healthcare assistants who might be better placed to work with women. The ideas around care pathways, developing a suite of interventions, avoiding the "one size fits all" and the role of social networks were explored. The "total environment" idea that is currently being studied is an exciting development so we will watch the findings of that with interest. In terms of research methods, the importance of process evaluations was underlined and opportunities to co-produce interventions with women could be one way forward to help us think more creatively about what might make a difference.
It was a great day, learning from colleagues from a wide range of disciplines all of whom have been working in the same area, coming up against similar challenges. Everyone shared their work with a real sense of openness and collaboration.
Many of the talks were presenting new unpublished work and so no "findings" will be disseminated but the group will continue as an informal network.
Thanks from the PRAM team to everyone who came and made it such a productive and enjoyable day
#CTRObesityPregnancy
The Centre for Trials Research is a UKCRC-registered clinical trials unit. It is publicly-funded to enable applied research that informs policy in health and social care in Wales and the UK, and is currently running studies across Wales, the UK and internationally. The Centre is funded through Welsh government by Health and Care Research Wales, and Cancer Research UK.