The NIHR Associate Principal Investigator Scheme: Researchers of the Future
18 March 2022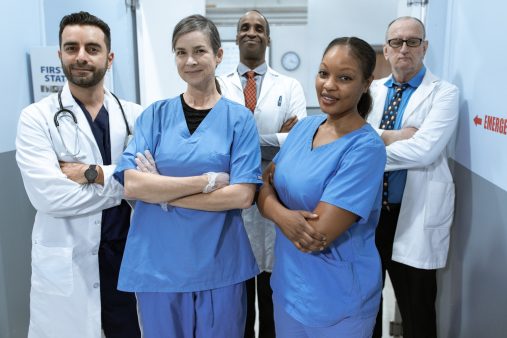 Many of you may have heard of the Associate Principal Investigator (API) scheme, but not everyone is familiar with what it entails and how we, at the Centre for Trials Research (CTR), have involved our studies in this scheme. As more studies and trials are now registering, this blog introduces the API scheme, with an emphasis on two of our participating trials.
With wording taken from the National Institute for Health research (NIHR) website, the Associate PI Scheme is a six month in-work training opportunity, providing practical experience for healthcare professionals (HCPs) starting their research career.
It is specifically aimed at people who would not normally have the opportunity to take part in clinical research in their day to day role. The API scheme gives them the chance to experience what it means to work on and deliver a NIHR portfolio trial under the mentorship of an enthusiastic Local Principal Investigator (PI).
Participating healthcare professionals receive formal recognition of engagement in NIHR Portfolio research studies through the certification of Associate PI status, endorsed by the NIHR and Royal Colleges. An overall summary of the scheme can be viewed in this short YouTube video https://youtu.be/at5PM61X0Yw.
The NIHR have recommended that all Clinical Trials Units (CTUs) appoint an Associate PI Champion, ideally a Trial Manager (TM) working on a trial/study that is involved in the scheme, to promote the scheme within the CTU and be the point of contact for other TMs who are considering registering their study. Within the Infections, Inflammation and Immunity (I3) division at the CTR, two trials that are currently signed up to this scheme are PRONTO and ENCEPH-IG. As such, Dr Joanne Euden (TM for PRONTO) and Dr Paula Foscarini-Craggs (TM for ENCEPH) have taken on the joint role as API champions to be the first point of contacts for the API scheme and encourage and guide others through the process of study registration.
The PRONTO trial (Procalcitonin and NEWS2 evaluation for Timely recognition of sepsis and Optimal use of antibiotics in the emergency department) is a large multi-centre, open label, individually randomised controlled trial to determine if additional point of care (POC) procalcitonin testing together with NEWS2 can help improve risk stratification of suspected sepsis in UK Emergency Departments (EDs).  This trial is designed to address important questions around early identification of sepsis while reducing unnecessary antimicrobial usage. This trial has become even more pertinent following the emergence of COVID-19 with high rates of antimicrobial usage.
PRONTO was first registered with the API scheme in April 2021 and has recently seen our first API complete their 6 month placement at Hull Royal Infirmary (see the CTR newsletter from February).
Dr Fahed Bangash, Senior Clinical Fellow says:
"The API role is an excellent opportunity for junior healthcare professionals who want to be future Principal Investigators (PI). It has helped me a lot to improve my research skills as it enabled me to work closely with research team members, recruit patients on my own, do the data collection and follow-ups. 
It has given me a good feeling about how a large multi-centre trial is carried out and that teamwork is the key to success. My research skills have improved and I feel more motivated to be actively involved in research. I recommend the API role to all the junior healthcare professionals who want to be involved in research as it will groom you well for the future PI role"
We are also delighted to have two more APIs currently registered to the scheme at St James's University Hospital in Leeds and Addenbrookes Hospital in Cambridge. More information on the PRONTO trial can be found here: https://www.cardiff.ac.uk/centre-for-trials-research/research/studies-and-trials/view/pronto
The ENCEPH-IG trial (Intravenous Immunoglobulin in Autoimmune Encephalitis in Adults –A Randomised Double-Blind Placebo-Controlled Trial) is a large multicentre double-blind placebo controlled randomised trial. The trial aims to determine if early treatment with intravenous immunoglobulins (IVIG) improves recovery time in adults with autoimmune encephalitis. Enceph-IG registered for the API scheme when it was officially available to all NIHR funded studies and trials in November 2021.
Setting up a trial during COVID has been tricky and the Enceph-IG trial team hopes the API scheme can help reduce some of the workload on the research staff and increase recruitment. Many patients are admitted to the hospital through the emergency department and are first seen by the general medicine team. By hosting an API within the emergency department or general medicine team, potential participants can be identified and screened as early as possible for inclusion in the trial. The trial team is hoping we can start working with our first group of APIs soon. More information on the ENCEPH-IG trial can be found here: https://www.cardiff.ac.uk/centre-for-trials-research/research/studies-and-trials/view/enceph-ig
If you are a trial manager currently in the process of setting up a new study and would like more information on registering for the API scheme, you can visit https://www.nihr.ac.uk/health-and-care-professionals/career-development/associate-principal-investigator-scheme.htm or get in touch with either of the API champions for advice, guidance or feedback on the current success of the scheme. If you are a Health Care Professional (HCP) and would like to enquire about which studies in the CTR current portfolio are registered with the scheme and how you can register, please contact Dr Euden or Dr Foscarini-Craggs in the first instance.
-This blog is jointly written by Dr Joanne Euden and Dr Paula Foscarini-Craggs
The Centre for Trials Research is a UKCRC-registered clinical trials unit. It is publicly-funded to enable applied research that informs policy in health and social care in Wales and the UK, and is currently running studies across Wales, the UK and internationally. The Centre is funded through Welsh government by Health and Care Research Wales, and Cancer Research UK.