Research Team Amsterdam Visit
28 June 2022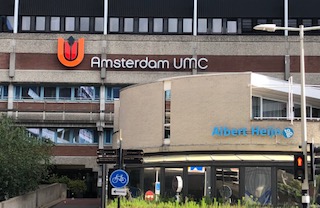 Bikes. Trams. Canals.
After a week in which I'd found myself in seven different airports, there was no mistaking that I had now landed in Amsterdam. My purpose for being here was to visit a world-renowned team at the forefront of research into the psychological impact of vision impairment. I have spent the last 10 years trying to understand how we can improve the recognition and management of depression and anxiety in adults with sight loss in the UK. I was keen to see what I could learn from the Dutch team of practitioners and researchers that we could implement here.
Firstly, I joined the team at their offices in Amsterdam University Medical Centre. They explained how they are screening attendees to low vision rehabilitation services for depression and anxiety using the PHQ-4, a short tool used worldwide to identify these conditions. Those with an indication of mild-moderate depression or anxiety are offered a 'stepped-care' intervention which includes guided self-help based on cognitive behaviour therapy (CBT) and individual problem solving therapy (PST). I attended a weekly research meeting in which colleagues shared the wealth of projects that are happening in the department, including a number of feasibility studies, online intervention development and implementation studies.
The next day we visited the Robert Coppes Foundation in the south of the country. The organization provides rehabilitation to people with physical disabilities, vision impairment and mental health conditions. We discussed the challenges of integrating psychological support into low vision services and the concerns of staff around addressing mental health – we have identified the same issues across our two countries. We spent time drafting a research paper which compared data from low vision services in each country and discussed how we can collaborate further to work on the challenges together. And of course I couldn't leave without having a quick cycle tour of the area.
My visit was made possible by a grant from Global Wales International Research Mobility Fund and the  kind hosting by Edine van Munster, Hilde van der Aa and Ruth van Nispen.
Information on their work can be found here: https://lowvisionresearchamsterdam.com/
The Centre for Trials Research is a UKCRC-registered clinical trials unit. It is publicly-funded to enable applied research that informs policy in health and social care in Wales and the UK, and is currently running studies across Wales, the UK and internationally. The Centre is funded through Welsh government by Health and Care Research Wales, and Cancer Research UK.