Research Outreach, Workshops & Giraffes In The Land Of The Brave
17 April 2023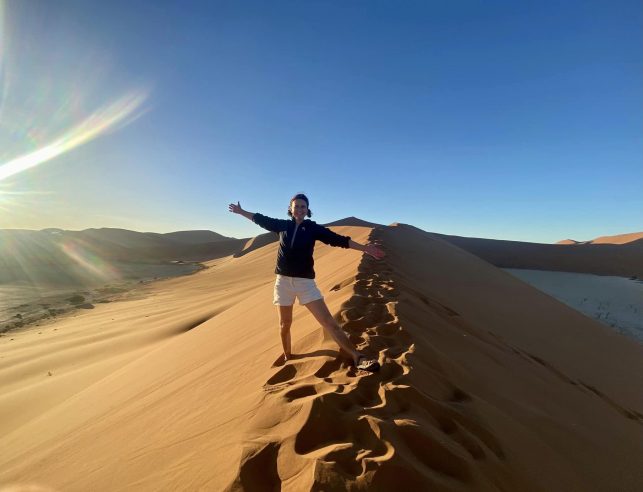 "Welcome to Namibia, the Land of the Brave!" announced Professor Mitonga as I walked into his office at the University of Namibia (UNAM) one morning back in February. It was the first day of my two month placement, an 'International Learning Opportunity' provided by the Welsh government and supported by the Centre for Trials Research, School of Medicine and UNAM.
I have to admit, I was feeling it was quite a brave undertaking, attempting to live and work in such a different culture, 5000 miles away from home. But there was little time to reconsider. Prof Mitonga put me straight to work on my main task – to help develop a roadmap for establishing clinical trials in Namibia through facilities at UNAM. I was introduced to the rest of the team and given a tour of the dedicated space set aside for a Clinical Research Facility.  Then we got down to work devising a plan, to propose the resources and facilities required. Several meetings and many document revisions later the final plan for a Health Research Centre, incorporating both a Clinical Trials Unit and a Clinical Research Facility, was submitted to the Faculty of Health for approval.
With that project under review, I was seconded into several others, largely by my office next-door-neighbour Boni Singu, the Associate Dean of Pharmacy. Sitting in my office one day he declared, "Claire, we must squeeze every last drop out of you whilst you are here!". And with that he opened up opportunities for me, for example to present to his students on a career in research and teach a workshop on grant writing skills to pharmacy staff.
One of my most rewarding tasks was supporting Faculty staff to apply for internal funding for outreach and engagement projects. As Public Involvement & Engagement Lead for CTR, I'm always keen to promote engagement with the community. It was inspiring to work with occupational therapists (OTs), physiotherapists, radiographers and midwives all highly motivated to improve the wellbeing of their local communities. One OT lecturer, Lian, was kind enough to take me on a tour of Hope Village orphanage where she plans to run community placements for her 4th year students, so they can support the 80 children under their care with OT interventions. In total, 8 projects were funded through the grants scheme and I am looking forward to seeing them progress.
My colleagues were keen that I got to see some of their vast country and made recommendations for my weekends. I explored north, south, east and west of the capital Windhoek, and seeing giraffes in the wild was definitely a highlight. The International Learning Opportunity provided me with an opportunity to live, work and explore in an environment very different to my own; I've learnt a lot on the journey. I am grateful to all the organisations involved for making it happen and to the staff who shared their time and ideas with me. We are continuing to work together on a possible Wales-Namibia collaboration and I look forward to seeing where it takes us.
To learn more about the International Learning Opportunities and to apply to work in one of four African countries, visit https://www.gov.wales/international-learning-opportunities-programme-html
The Centre for Trials Research at Cardiff University is funded through Welsh government by Health and Care Research Wales, and Cancer Research UK.
The Centre for Trials Research is a UKCRC-registered clinical trials unit. It is publicly-funded to enable applied research that informs policy in health and social care in Wales and the UK, and is currently running studies across Wales, the UK and internationally. The Centre is funded through Welsh government by Health and Care Research Wales, and Cancer Research UK.