RDCS Writing Retreat Achieves 95% Customer Satisfaction From NHS And Social Care Delegates Seeking To Submit Research Funding Applications
6 December 2017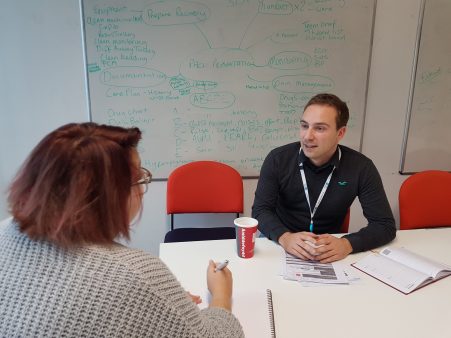 3-Day Residential Retreat
Early in November the Research Design and Conduct Service (RDCS) South East Wales hosted a three-day residential writing retreat at the Old Rectory hotel in Llangattock near Crickhowell. 16 researchers from all over South Wales attended the event, working on seven distinct research proposals targeting the upcoming Research for Patient and Public Benefit (RfPPB) and Social Care Grant funding calls (with deadlines just before Christmas) and the Health Research Fellowship (deadline in late November).
Retreat Focus
The retreat enabled the delegates to focus on their grant writing, develop and discuss ideas as a team, and get expert advice from eight consultants on a variety of aspects such as research design, study management, qualitative methods, statistics, and health economics.
Wide Variety Of Expert Support To Delegates
To cover a wide range of disciplines and specialities, the Cardiff-based team of RDCS consultants (Sue Channon, Kim Madden, Claire Bartlett, Philip Pallmann) was supported by Swansea health economist Deb Fitzsimmons, Centre for Trials Research director Kerry Hood, and two consultants from the English Research Design Service (RDS) South West, Julie Hapeshi (Gloucester) and Gordon Taylor (Bath), who attended the retreat to garner ideas for a similar RDS event in the near future. Some delegates even took on a double role, working on their own proposals and also advising others on theirs.
Access To Consultants
While some teams made enthusiastic use of the opportunity to pick the consultants' brains throughout the event, others simply enjoyed having time to refine their proposals with no disturbances from everyday work. And it was also the venue itself – a quaint 16th century building and once home of the poet Henry Vaughan – that created a productive environment for concentrated thinking and writing. Quite a few participants decided to work in the cosy atmosphere of the hotel bar rather than the slightly chilly seminar room. The discussions between researchers and consultants continued well into the evening when hints and tips were exchanged over dinner while enjoying the excellent cuisine in the conservatory.
Costings And Funding Schemes
The consultation sessions and blocks of intense writing were topped off with presentations on topics relevant to all grant applications. Claire Bartlett gave an introduction to Gantt charts and some general writing tips, Kerry Hood highlighted important aspects around flow charts and costings, and Helen Hodgson of Health and Care Research Wales discussed the ins and outs of the funding schemes with upcoming calls. Eventually the research teams presented their own draft flow charts, which again instigated lively debate and discussions.
Feedback
The event received excellent feedback (9.5/10 satisfaction), and all participants agreed it was a great success and improved their proposals substantially. Some aspects the delegates found particularly helpful were:
"one-to-one support and time with consultants"
"ability to ask questions throughout"
"excellent advise from a range of experts"
"time to informally discuss and deliberate aspects of the application"
"friendly and informal set up"
"interesting presentations"
"hearing of other projects"
"dedicated time to write application as a team"
"time out of clinical area"
"excellent insight into clinical trials"
"great food"
The Centre for Trials Research is a UKCRC-registered clinical trials unit. It is publicly-funded to enable applied research that informs policy in health and social care in Wales and the UK, and is currently running studies across Wales, the UK and internationally. The Centre is funded through Welsh government by Health and Care Research Wales, and Cancer Research UK.