My GW4 Crucible Experience
29 September 2022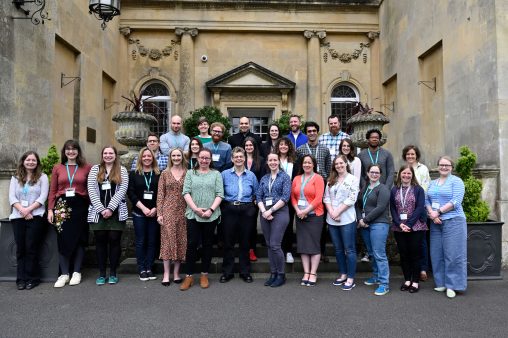 What is GW4 Crucible and who is it for?
GW4 Crucible is a series of workshops for people who are identified as 'future leaders' to explore working in an interdisciplinary and collaborative way on a key research theme, which changes every year. Pre-lockdown this was organised as three residential 'labs' of two consecutive days in February, March and April. It has now settled into a hybrid model of two labs and four of online masterclasses.
Thirty people are chosen each year from hopeful applicants so it's quite competitive, but your competition is limited to the four GW4 universities (Cardiff, Bristol, Exeter and Bath). Participants stay in a hotel near one of the host universities for residentials which run a bit like a conference but with a lot more networking time. There are speakers, drawn from current research leaders, senior academics and previous Crucible attendees, but there is very little sitting around. The focus is on how you can enhance your career by working with researchers in other disciplines, how your research can have greater impact, and how you can build your careers. Participants are very much encouraged to make connections and collaborate with each other. The residentials are completely funded, except for travel to the venues, and the team are very amenable to accessibility requirements.
If you work at one of the GW4 institutions, you "see yourself at the cusp of research independence" (i.e. you've been hopping from one precarious academic contract to another for far too long), you love to talk to people about your specialist area(s), to listen to theirs, and to try to find points of connection, then GW4 Crucible is for you! With two 2-day labs and four 1.5 hour masterclasses spread over three months, the programme is a commitment, but it is also prestigious for yourself and your institution, and can give you the edge on your next job or grant application.
The 2023 call is open and the deadline for expressions of interest is 25th October 2022. The 2023 theme is: 'Our Data And Digital World – Opportunities For Transformative Interdisciplinarity'
What made me apply for GW4 Crucible?
I first heard about GW4 Crucible in 2019 as one of my colleagues in WISERD, where I worked at the time, had attended. I then found out several other people I knew had also gone. I was intrigued by the idea because I do love that bit of a conference where everybody is making connections and firing ideas off each other, and this sounded very similar.
I had also been piecing together a patchwork academic career and applying unsuccessfully for research funding, and felt like my career really needed a kick. Covid came and, as a health researcher, there was very little time to think about anything except the work in front of me. Then when I saw the call for GW4 Crucible 2022, and that the topic, "Building Back Better: Interdisciplinary Approaches to Mental Health and Wellbeing Research", works well for my research field, it was too good an opportunity to ignore.
I had a fair amount of imposter syndrome in applying – like with job applications, it's really difficult to argue why I'm the one they want! It's one thing putting down a dry list of achievements in a CV, but another to actually put myself forward as a 'future research leader'. Several times I thought I shouldn't bother, because I expected to be rejected as I had with grant applications. I had help from academic colleagues in the wording of the application, which I highly recommend. One of the key pieces of advice on this is to imagine that you're writing it for someone else who has done all of the things you have done. Getting the email to say I was accepted was a boost in itself.
What have I got out of GW4 Crucible?
The two labs were amazing. I met some really interesting people, and got to know better some people who I already knew from Cardiff. I have made research connections and also made some good friends. It was fantastic to be in a place where I could meet people who are exciting to talk to and who are equally excited by what I have to say. I don't know whether this was a post-lockdown buzz, but I suspect not because I have tended to feel like this at conferences and network events pre-covid. One of the really important things about GW4 Crucible is that it brings together people from different disciplines. So I was not only talking with people who work within health and psychology research, but with neuroscientists, historians, philosophers, geographers… anyone who has a perspective on the topic is encouraged to apply.
The first lab in February was about getting to know each other and finding people who could be potential collaborators in a future project, and thinking about what that project might be, as well as imagining where our career trajectories were going. We were encouraged to stay in contact between the labs, and to work on our project ideas if we were able to. Then the second lab in April was about consolidating our thoughts about the projects as well as our own future careers. We had a photographer attend, so I have some great professional looking shots. I also have to mention the food – we stayed in excellent hotels in Cardiff and Bath.
The online masterclasses during March were also very useful. We had presentations from experts within the four member universities. They talked about their own career trajectories and what led them to the roles they now have. We also had a masterclass on how to write a great proposal.
Since becoming a Crucible Alumni, I have had continued support from the GW4 Crucible team, who are very approachable. As with most things, you get out of it what you put in, and I have probably been more demanding than some participants. The collaborative teams that formed were encouraged to put in an application for seed funding for their project ideas, which we decided to do. Only Crucible Alumni can apply for this funding, so the chances are good. We took up the option to meet with the Crucible team again in the weeks before the deadline to discuss our idea and application in more depth.
One of the key points about the project is that it needs to be a collaboration between researchers within several GW4 universities and different disciplines. I am very lucky to have found three great people from Bath, Bristol and Cardiff. I'm also excited to be the lead researcher on this project, and it's fantastic to be working in an area I'm passionate about.
How did we work out the project?
I really wanted to do something around the experience of being Autistic and how this impacts people's mental health. For instance, being Autistic in an autism-unfriendly environment, or on a more positive note, looking at protective factors that Autistic people have found can help to maintain their wellbeing. As I am Autistic myself, I've been very keen to involve Autistic people from the beginning and wanted to approach it with few assumptions about what kind of research would be useful. I am also keen to point out that we are not approaching this with the thought that autism is in itself a mental health problem, but we are interested in how living with a stigmatised condition might impact a person's wellbeing.
I found a good group of other researchers who have been working and researching in similar areas, and we talked a lot around the topics of autism, wellbeing, stigma, and identity management. We talked about how being Autistic can be an identity, and how being part of an Autistic community might help to buffer some of the negative reactions that Autistic people might experience from others. We had some big ideas about what kinds of things we could look at, but due to resourcing and time limits we had to pare them down quite a bit and save some of our ideas for the next level grant application.
What are we hoping to do?
Our final project idea is to hold a discussion group about autism research with Autistic people. We hope to find out what Autistic people think about autism and autism research, so that this can inform our research in the future. We are especially interested in hearing what the group think about theories of what makes us Autistic and how these theories interact with our identity and sense of self. Our aim is to co-produce an infographic with Autistic people about theories of autism and what they mean to people, how they impact someone's wellbeing and how they feel about themselves. I'm very excited that we have got an Autistic infographic designer on board with the project, and this infographic is our main output. We are also hoping that the people that take part in this involvement event will stay in contact and help us to design our next project.
The grant money is going towards the venue: an Autistic run vegan café, catering, transcription of the recordings of the discussion and the infographic design, as well as paying the participants for their time based on HCRW rates, and their travel expenses. We are holding the event in November and the funder report needs to be submitted at the end of March.
Where will it lead?
In terms of the project itself, we are thinking about ideas for the next grant, depending on how the involvement event goes. The infographic will be a sharable output. There is a next level grant available with GW4 Crucible for a future study, or we could go straight for a bigger grant.
In terms of GW4 Crucible, I am hoping to have continued contact with the team. They have a newsletter and alumni events every year. Recently I went to Bristol for the day and met other previous Crucible attendees, some from the 2022 cohort and others from older cohorts. If I do move from being a 'future leader' to being a 'leader', then I'd be happy to return as an 'expert'.
The Centre for Trials Research is a UKCRC-registered clinical trials unit. It is publicly-funded to enable applied research that informs policy in health and social care in Wales and the UK, and is currently running studies across Wales, the UK and internationally. The Centre is funded through Welsh government by Health and Care Research Wales, and Cancer Research UK.