Making Research Funding Applications For The NHS And Social Care
2 October 2018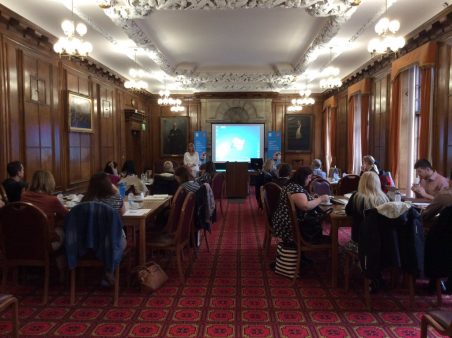 Making Research Funding Applications for the NHS and Social Care
The Research Design and Conduct Service (RDCS) South East Wales supports staff working within the National Health Service and social care to develop high quality research funding proposals.
The RDCS South East Wales held their second annual event of the year on 13th September 2018.
Located in the wonderful committee rooms of the Glamorgan building – our 1st event since Mark left and Theo Riley's first as part of the team (welcome Theo)!
Research funding proposals
This RDCS event was aimed at practitioners interested in developing a proposal for research funding and included a mix of presentations and hands-on practice.
Funding streams and observer feedback
The day began with a presentation about Research for Public and Patient Benefit (RfPPB) funding available from Health and Care Research Wales. We shared with delegates an overview of the funding stream, details on the themed call element for this year, as well as feedback from observing funding panels.
Importance of lay summaries
This was followed by a presentation about the importance of a lay summary and how they are used as part of the application process. Delegates were given time to review a scientific and lay summary as well as an opportunity to draft their own lay summary with support from RDCS consultants.
Research design and planning
An important part of any application is the research design and Professor Kerry Hood was able to provide some very useful information about what you need to consider when designing your study.  We also had presentations on R & D processes, Health Economics and its role in research and Gantt charts to help planning research activity and costings. There were further opportunities for delegates to begin shaping their research design with feedback from consultants available on the day, as well as consider the components of a research plan and what is needed for a funding application.
Feedback from our delegates – average satisfaction rating 9/10
"Having the opportunity to speak to your consultants has really started to move my thinking on."
"Discussing with really helpful/friendly consultants – 10/10."
"Open and encouraging environment to discuss ideas."
Next event
Our next event will be a free non-residential writing retreat on the 5th & 6th of November in Cardiff.  Book early to avoid disappointment – ideal opportunity for research teams to come together for focused writing time with ongoing input and feedback from RDCS consultants – invaluable for those preparing to submit a funding application.
The Centre for Trials Research is a UKCRC-registered clinical trials unit. It is publicly-funded to enable applied research that informs policy in health and social care in Wales and the UK, and is currently running studies across Wales, the UK and internationally. The Centre is funded through Welsh government by Health and Care Research Wales, and Cancer Research UK.