FRAGMATIC: Results of the Largest UK Trial of Lung Cancer Patients with Low Molecular Weight Heparin
9 February 2016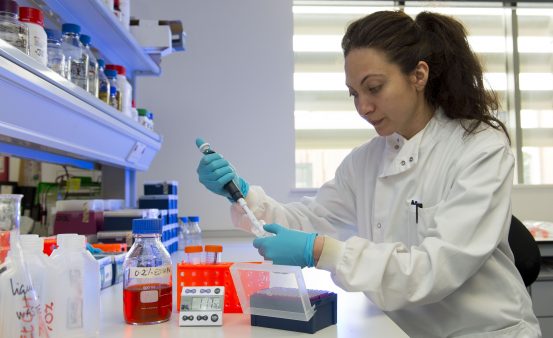 The results of the Fragmatic trial were recently published in the Journal of Clinical Oncology. The trial was funded by Cancer Research UK with support from Pfizer to answer this question: 'Should all newly diagnosed people with lung cancer be offered daily injections of a drug called dalteparin for six months to improve survival and prevent blood clots.'
One of the paper's authors, Fergus Macbeth, reflects on the importance of the research.
In 2005 the results from small trials in patients with small cell lung cancer, supported by indirect evidence from large trials including patients with a variety of cancers, suggested that giving drugs that prevent clots might improve survival. Patients with lung cancer are more at risk of blood clot, especially when having surgery or chemotherapy.
Laboratory studies also suggested that a specific class of these drugs, heparins, might prevent the formation and growth of metastases (cancer spread). We therefore thought there might be two ways in which dalteparin (a form of heparin) might prevent serious problems: it might prevent fatal blood clots in patients at high risk and it might prevent the spread of cancer. But this theory needed to be tested with a large randomised trial.
So we designed the trial to include newly diagnosed lung cancer patients of any type and extent of spread who, if they consented to enter the trial, would receive either daily injections of dalteparin for 26 weeks or no dalteparin in addition to their standard treatment. Patients, or relatives, were trained to give the injections themselves.
Over 4 years, we recruited 2,202 patients from centres all around the UK, making this one of the largest ever randomised trials in lung cancer patients. When we analysed the results we found that there was no difference in the number of patients alive at the end of one year following diagnosis and there was no suggestion that those who received dalteparin were living longer. The risk of developing a potentially serious blood clot was reduced by half in those having dalteparin but the risk was lower than we expected (10%) and there was an increase in the risk of bleeding problems.
When we looked a specific groups of patients (including those with small cell lung cancer) there was no suggestion that any group might be benefitting from the treatment. We tried to get a broadly representative group of lung cancer patients, but there were very few who had surgery and none who were very ill at the time of diagnosis. So it is still possible that are groups of patients who might benefit from routine use of dalteparin or similar drugs.
Although the results of this trial may seem disappointing and 'negative', they are, however, very important. This is the first trial large enough to answer this question for any tumour type and does give a very clear result. So teams around the world may have to rethink their research strategies in this area.
We are very grateful to all the patients, doctors and nurses and staff of the Wales Cancer Trials Unit who helped make this trial a success and to Cancer Research UK for providing the funding.
The Centre for Trials Research is a UKCRC-registered clinical trials unit. It is publicly-funded to enable applied research that informs policy in health and social care in Wales and the UK, and is currently running studies across Wales, the UK and internationally. The Centre is funded through Welsh government by Health and Care Research Wales, and Cancer Research UK.