First All-Wales Research Design and Conduct Service Residential Writing Retreat
19 January 2017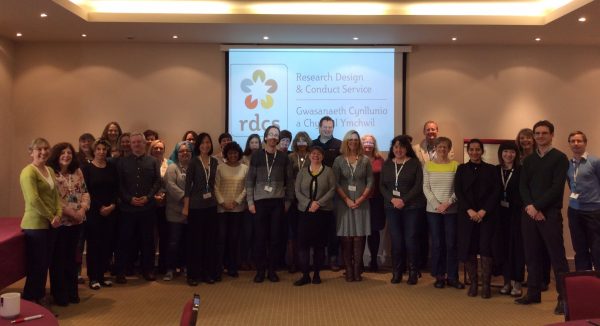 A successful 3-day writing retreat
The Research Design and Conduct Service (RDCS) South East Wales recently hosted the first All-Wales Research Design and Conduct Service residential writing retreat. The retreat was aimed primarily at teams of researchers targeting the imminent Research for Patient and Public Benefit (RfPPB) funding call and was designed to provide an environment conducive to productive writing.
We held the event in the Metropole Hotel in Llandrindod Wells, chosen for its central location in Wales. This location also meant that most of our delegates would find it difficult to nip back to the office, clinic or hospital for an hour, and instead had to focus on writing.
Delegates from all over Wales
The event was a great success with 23 delegates from all over Wales representing 10 distinct research proposal ideas. Most of the ideas were in quite late development but a couple required more significant refinement and changed dramatically over the three-day event. We also had consultants from all three Welsh RDCS organizations and it was great opportunity for consultants to catch up and share experiences. It was rare to see how our counterparts approached different research topics and we gained much from working closely together.
The delegates too were networking and collaborating and there was a tangible atmosphere of cooperation.
Expert advice combined with focused writing time
The event began on Wednesday with a few short talks. These included a presentation from Helen Hodgson of Health and Care Research Wales on costing studies in the NHS, a talk from Pippa Anderson on the importance of health economics and a talk from Kymberley Thorne on patient and public involvement. This lead into a block of three hours of writing. The delegates threw themselves into this and most teams were still in the main writing room at 6pm. We broke for dinner at 7pm and the conversation and exchange of ideas continued over food and drink.
Tips and advice throughout
The following morning followed a similar pattern, with some short motivating talks from me on general writing tips and Sue Channon on RfPPB-specific hints and tips. Again, this was followed by blocks of writing time. By this stage of the event the pace had picked up and drafts of proposals were being shared with consultants for quick comment and turn around. And once again the activity continued right into the evening.
Beyond networking
The evening meal was a welcome break from the frenetic activity that we had seen for the previous two days and it was great to see the delegates mingling with each other over dinner. At least one team resumed writing post-meal and continued into the small hours.
Costings and Gantt charts
The final morning saw Kerry Hood deliver a one hour master class on flow diagrams, Gantt charts and also costings. The day finished at 1pm, but delegates were still working in the hotel when we left around 2pm.
Positive feedback
Informal feedback from the delegates was universally positive with many teams saying that the event allowed them space to write and think that would be impossible in their offices. In addition, two teams reported that they would not have been able to submit to RfPPB this year without the support they received on the course. The only negative comment surrounded the timing of the event, which was very close to the deadline – something that we are not in control of. We are hopeful that we can work with Health and Care Research Wales to make sure that we time the event even better next year.
This event is a highlight of the RDCS calendar and the value it adds to project proposals and the confidence it gives to researchers is a wonderful thing. I hope we continue to be able to run it every year!
The Centre for Trials Research is a UKCRC-registered clinical trials unit. It is publicly-funded to enable applied research that informs policy in health and social care in Wales and the UK, and is currently running studies across Wales, the UK and internationally. The Centre is funded through Welsh government by Health and Care Research Wales, and Cancer Research UK.