Centre for Trials Research At #ICTMC2022: 6th International Clinical Trials Methodology Conference (ICTMC)
27 October 2022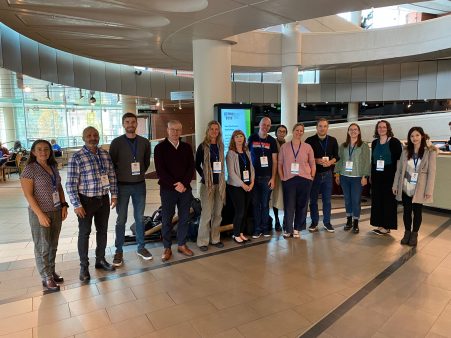 After a Covid related hiatus, so a year later than planned, the bi-annual International Clinical Trials Methodology Conference (ICTMC) was held in the beautiful spa town of Harrogate at the beginning of October 2022. The ICTMC meeting is a great opportunity to learn about all things methodological in the clinical trials arena, with a programme that truly offers a little bit of something to suit everyone's expertise and areas of interest. Not only that, but it is a great opportunity for trial staff and students, at any level, to showcase the great and important work contributing to the advancement of innovative and efficient trials whilst simultaneously delivering top notch clinical research.
As one of the largest CTUs in the UK, the event was well attended by CTR folks with at least 16 people (at the last count) presenting their work either at one of the many, well attended oral sessions or in poster format. This included study leads, statisticians, trial managers, data managers and PhD students. To give a flavour of the methodological work showcased by CTR staff at this meeting, all CTR contributions, both oral presentations and posters are included below.
ICTMC offered the opportunity to learn from world leading experts across a range expert positions on the design and conduct of impactful clinical trials through the plenary sessions given by:
Prof Salim Abdool Karim who gave an excellent overview on the challenges of conducting clinical trials in pandemic situations giving as an overview of his work on testing novel treatments and methods for HIV prevention in Africa, through to trials in combatting tuberculosis, and latterly our old friend Covid-19.
Prof Isabelle Boutron who, in the Doug Altman Memorial Lecture, discussed how to effectively do 'research on research' and the use of practical guidelines, such as the trials reporting frameworks, to improve transparency and reduce the degree of 'bad research'.
Prof Max Parmar who gave us a valuable overview of the utility of MAMS (multi-arm multi stage) and other adaptive trial designs may be used to find effective therapies for neurodegenerative disease, where currently so few exist, as part of the ACORD initiative.
And the learning opportunities were furthered by the availability of pre and post workshops where delegates were able to gain specific expert training over a range of areas in trial methodology and conduct including; e-consent, the practicalities of designing a MAMs trial, clinical trial monitoring, practicalities for using estimands in trials, the planning and delivery of engaging training to clinical trial staff and the finding and use of core outcomes sets in your trial.
But….it wasn't all work an no play. Some took the opportunity to explore the local surrounds on a brief morning run and also to visit the world famous Betty's tea rooms – I say some, but we all know it was me. However, I can confirm that they were both well worth the effort (eating that éclair was very hard work after all 😉).
There was an opportunity to let one's hair down at the conference dinner which was held in the extremely beautiful Royal Hall. Opened in 1903, this highly ornate auditorium provided the perfect setting to dance the night away to the excellent New York Brass Band – nothing like hearing your favourite 80's classics reimagined in brass!
 So, final thoughts (a little Jerry Springer throw back for anyone old enough to remember that televisual delight) on the work presented/ discussions had at ICTMC 2022:
What we do on a daily basis is right up there in terms in impact and importance in the running of high-quality clinical trials. This felt particularly relevant in terms of the PPI work that we do and after listening to what our trials methodology contemporaries regard as innovative and ground-breaking; we are very much at the cutting edge of successful and impactful public involvement and engagement.
There are lots of opportunities to get involved with 'hard-core' methodology work at a national and international level. The Trials Research Methodology partnership has several working groups where people can get involved- if you have ideas, make yourself known to the group leads (and if you want to know who those group leads are- both Kerry Hood and Vicky Shepherd are already intrinsically involved so can link you up). One of the core values of CTR is to enable staff to develop, so if you have methodological research ideas that you want to develop, talk to your line manager, talk to your colleagues and you will be supported to develop these ideas within what is recognised as a heavy and busy workload.
If you have work that you want to shout about (and so you should), consider submitting an abstract for the next ICTMC. It is a very friendly conference, considering its size, and attendees are there to network and develop, just like you, so be brave and reach out!
Invited Oral Presentations
From the wealth of abstracts submitted to the meeting, specific work was selected for oral presentation at one of the parallel sessions. There was great representation from CTR over a diverse range of topics which are described briefly below.
Yvonne Moriarty presented her work on "A process evaluation and data triangulation of the Awareness and Beliefs About Cancer 3 trial" in the session on Challenges in Improving Trials. This was discussing how data from several sources collected as part of a process evaluation in ABACUS3 was combined for analysis and interpretation.
Phil Pallmann presented his work on "The inclusion of co-primary superiority and non-inferiority endpoints in trial designs" using the examples from trials run in the I3 division (BATCH and PRONTO).
Mike Robling delivered a talk in the session on Healthcare Systems Data and Trials on "Priority setting the opportunities for routinely collected data and trials: COMORANT-UK" which covered the work led by Fiona Lugg Widger (currently on maternity leave) on the COMORANT project.
Vicky Shepherd gave a talk in the extremely well attended session on Improving Inclusivity titled  "Shining a light into the 'black box of horrendousness': a qualitative study exploring barriers and facilitators to conducting trials involving adults lacking capacity to consent". This explored the body of work that Vicky had led through her PhD and subsequent fellowships on improving the inclusion of people with impaired capacity in clinical research.
Finally, but no means least, Helen Stanton delivered a talk on "Using two-way text messaging to collect daily pain outcome data in participants with Hidradenitis Suppurativa" in a session on Improving Technology For Trials.  This explained how innovative methods of obtaining patient reported  outcome data remotely were employed in the THESEUS trial.
Poster Presentations
All the oral presentation also featured as posters amongst the 370 posters on display at the meeting. In addition the following posters were also presented by CTR staff.
Leona Batten presented two posters titled:
"Safety Reporting and reconciliation in large complex studies, experiences from the AML19 trial"
"Patient and Charity involvement in Trial Design, experiences from the PICCOS Umbrella Trial in Colorectal, Stomach and Ovarian cancers"
Sarah Bridges and Martina Svobodova presented their community engagement work with a poster titled: "Talking Trials: an Arts based exploration of attitudes to clinical trials amongst minority ethnic members of the Riverside community of Cardiff"
Cheney Drew presented a poster on "The LEARN study: using participant experience to improve trial design for neurodegenerative diseases."
Dave Gillespie presented a poster titled "A Study Within A Trial (SWAT) of waitlist comparator versus usual care only comparator designs implemented in an open-label parallel groups cluster randomised trial"
Christie Heiberg presented a poster on "PATHOS: A Phase III trial of Risk-Stratified, Reduced Intensity Adjuvant Treatment in Patients Undergoing Transoral Surgery for Human Papillomavirus (HPV)-Positive Ooropharyngeal Cancer. An international, multicentre, parallel group randomised controlled trial.
Nigel Kirby presented a poster on "Accessible software to accelerate non-commercial trials for rapid patient impact (ASSISTANT)"
Mandy Lau  – presented a poster titled: "Applying the Estimand Framework to the microbiological outcome". This work was also selected for oral presentation at on of the lightening talk sessions where presenters are given just 3 minutes (!) to give a whistlestop tour of their poster to a broader audience.
PhD Student Brittany Nocivelli presented her work on research in UK care homes with the poster;  "Identification of barriers and facilitators to the inclusion of UK care home residents in research: a scoping review"
Muhammed Riaz presented a poster on "Process evaluation of the daily pain-scores collected via two-way text messaging services: a statistical analysis of a prospective cohort study"
Vicky Shepherd (who definitely took the prize for greatest number of posters presented by any one person) shared the work on the with the following three posters:
"Methodological and ethical considerations for designing Studies Within a Trial (SWATs) of recruitment interventions for trials involving adults lacking capacity to consent"
"Measuring the quality of proxy consent decisions for adults who lack capacity to consent: development of the Combined Scale for Proxy Informed Consent Decisions (CONCORD)"
"Improving the inclusion of an under-served group in trials: development of the INCLUDE Impaired Capacity to Consent Framework"
The Centre for Trials Research is a UKCRC-registered clinical trials unit. It is publicly-funded to enable applied research that informs policy in health and social care in Wales and the UK, and is currently running studies across Wales, the UK and internationally. The Centre is funded through Welsh government by Health and Care Research Wales, and Cancer Research UK.