Working as a fixer for documentaries & media projects in Greenland before & during the COVID-19 pandemic
3 September 2021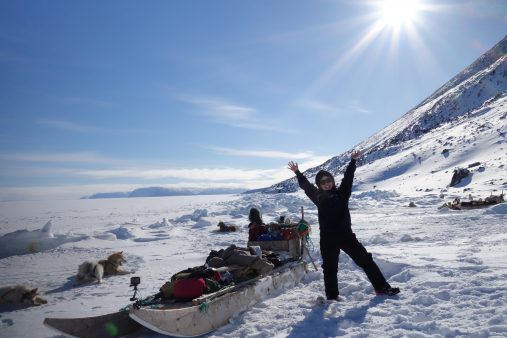 By Kim Insuk
In 2008 in Korea, a TV documentary series called Tears of the Arctic was released. It was the first documentary that was filmed in the Arctic including Greenland for 300 days by a major Korean broadcasting company. The series, which contains 4 episodes, was a huge success and sensational in Korea, earning the highest viewer ratings in Korean documentary history. Eventually the series was re-formulated for a movie and the movie was shown in cinemas. It became a documentary that almost all Korean people have heard of and schools used the series for educational purposes.
As you can easily imagine from the title of the documentary, it mainly showed a dark side of the Arctic and gave Koreans a warning sign of global climate change. The main message of the documentary was that the Arctic is in danger, so we should be aware of it and take action before it is too late. That is the documentary that I watched and grew up with in my youth. The Arctic did not look like a land of opportunity from the documentary.
In 2010, two years after the documentary was released, I was heading to Greenland. As a solo traveler, I travelled to seven towns and settlements in Greenland for two weeks. Without realising, that trip was slowly changing my life. Because after that trip, I totally fell in love with Greenland. While travelling, I met local people, talked to them and experienced their culture as much as I could. In Greenland, there was definitely more than melting ice. I was thinking that it would be amazing, one day, if I had a chance to show this to more people.
After the trip, I came back to Korea, graduated from university, and moved to London to take a master's degree in Cultural Heritage Studies. After my trip, Greenland was always on my mind; I wanted to know more about Greenland. Eventually I wrote a master's dissertation about Greenland's cultural and natural heritage affected by climate change. After my study, I came back to Korea and got a job but I couldn't forget about Greenland. I kept looking for a way to go back to Greenland and the fastest and the easiest way to go back to Greenland was becoming a student again. As I had wished, I returned to Greenland in 2015 as a student at the University of Greenland. Since then, I have lived in Nuuk, the capital of Greenland.
This slideshow requires JavaScript.
Blog my everyday life in Greenland
When I moved to Greenland in 2015, I had never imagined that there would be no Korean people living in Greenland. I first found out the fact, after I arrived in Greenland. Back then, I had been running a blog for 12 years. I thought that it would be a perfect chance to record my everyday life on my blog. The blog allowed broadcasting, media, and publishing companies to contact me and eventually my blog opened a road towards becoming a fixer in Greenland.
Being a fixer

Working as a fixer (or program coordinator, as we call it in Korea) can be a difficult job, even if you live in the country that your work is focused on. You have to use your entire network to find perfect people for documentary stories and content. That is the basic task of a fixer. Not only discussing content with a documentary producer but also making all the itineraries, booking accommodations, finding restaurants, interpreting interviews and even driving a car. To get the perfect footage, you might stand by all the time, which might make you feel like working 24 hours. Nevertheless, this temporary job is still very attractive and worth it. You will meet people who you normally can't meet and you will travel where you've never been even if you already live in that country.

From the local side, you will be shown as a representative of your home country. However, from the documentary team side, you will be shown as an ambassador of the documented country. You will be like a bridge on both sides, meaning that your role is very important. The content's direction can be affected a lot by the location that you chose and the people you hired. The documentary team, of course, will research the content and location themselves but most of them have never been to the country or locations so you are definitely more of an expert than most of them.

Without doubt, working with people from your own country to introduce a place you love is an amazing experience.
My experience as a fixer before the COVID-19 pandemic
Since 2017, I've helped Korean media and worked as a part of several TV documentary teams every year. In 2017, my first fixer job was with YTN from Korea, and I joined a TV documentary team that made a series called The Arctic. It was a big project that made us travel from South Greenland to one of the Northernmost towns in Greenland both in winter and summer. The producer and I talked a lot about Tears of the Arctic. Some time has passed since then and we wanted to show what the current Arctic looks like.
Winter 2017
In Qaanaaq, our original plan was 3 days of dogsled trip for seal hunting. While running on the frozen white sea, we stopped from time to time whenever we spotted a black dot from the distance. Those black dots were seals who were taking a rest from the sea ice hole. It was such an amazing experience. However, due to the changing weather, instead of travelling at the edge of the sea ice, we decided to stay one night in a hunters' hut. Unfortunately, the next day's weather was not the best to run with dogsleds either and we could only stay in the hut the whole day. There was one thing that I remember what hunters said. "Mother nature already controls us like this. Luckily there is no quota for the seals but if you think about other animals like whales, the quota system is controlling us double." You learn a lot from the locals by travelling and isolating with them within a short time.
This slideshow requires JavaScript.
Summer 2017
Once again when we got to Qaanaaq, we were supposed to go out filming narwhal hunting with local hunters. So we kept an eye on the weather forecast. The weather seemed okay from afternoon according to the weather forecast app. However, we knew that it is always important for the documentary team to respect and trust the local hunters. The hunters informed us that we should postpone our filming that day because of the weather. And yes, they were right. The bad weather continued until the late afternoon. We were on stand-by and ready to go when the hunters said GO!. We finally took action the next morning and after 17 hours of waiting in a boat, we succeeded in filming narwhals.
2018
I had to go to Tromsø, Norway for my internship but at the same time, I got a request email to become a fixer from a Korean travel TV program called Themed world's tour in their Greenland episode. The program has been running since 2008 and was a long-lived famous program in Korea. I had to say No to join the team physically but by giving all the relevant contacts for the program, I worked as a liaison coordinator.
2019
I worked for the TV documentary, Beauty of Fermented Food. It was a very interesting project. The theme of the documentary was fermented food and the team's goal in Greenland was to film Kiviaq which is one of the world's stinkiest foods. This trip brought me to Greenland's northernmost settlement, Siorapaluk. This trip was very dynamic. We experienced a lot of unexpected situations such as flight delays and cancellations. Not to waste the limited time, I had to hire a boat to get to the next destination and needed to find a local hunter on short notice to create footage that we had missed.
This slideshow requires JavaScript.
​Sometimes the waiting time was too long, so we had a lot of free time. While walking around that small settlement, I heard people talking in Japanese. I just knew that it must be a person who I had been longing to meet for many, many years. There was a well-known Japanese man who settled down in Greenland in the 70s. I felt like I met a celebrity by chance. Of course, this does not happen everyday, but as a fixer, sometimes there is a bonus happiness.
Then 2020 arrived. I have always believed that Greenland is one of the most isolated countries in the world. However, we were also not spared from COVID-19.
COVID-19 hit Greenland in 2020
When COVID-19 first hit Greenland in 2020, I believed that my career as a fixer had ended. However, there was still a way to work as a fixer even during the COVID-19 pandemic. I would like to share how it was possible.
This time, a journalist from one of the major newspaper companies in Korea contacted me. Due to COVID-19, the newspaper team couldn't travel themselves so they were asking for someone to help. Their project idea was brilliant. They were planning to create Virtual Reality content using a 360 camera. But I, as a fixer, had to hire a local cameraman to create the content. Then we had to deliver raw footage to the newspaper company for their special website. It was my first no-contact work with a Korean media. This was a very new type of work but eventually it went well. Through this experience, I see the possibility of a new type of fixer.
After travelling and publishing the content, the documentary team goes back to Korea and my role as a fixer on location is over. However, my task as a fixer is not done yet. While the documentary producer edits the footage, communication between the producer and I continues. Fact-checks and translation of the interview for the subtitles are waiting as follow-up tasks.
Personally, one of the most important tasks when it comes to documentary work is presenting the results to those who helped in the documentary making. I normally ask the people what type of format they would like to have as a final result. When they prefer the footage on USB, I used to send it by post. When the full version of the documentary was uploaded on the internet as an open source, I used to share the link.
Once, the local Greenlandic newspaper recognized that a Korean TV documentary team was filming in Greenland. We were in the newspaper and on live radio as well. This was also one of the unforgettable memories. Not only did it introduce Greenland to Korean people, it also worked vice versa. It made me an unofficial ambassador of Korea.
There have been some moments when I feel particularly proud of my role as a fixer. It is when my first documentary in 2017 and the Virtual Reality project in 2020 that I participated in, received the first prize in different awards. Joining a documentary team is a very pressured but also thrilling experience. Since its result is so visible and lasts forever, I always feel honored to be part of it.
---
Kim Insuk is a Korean who has been living in Greenland since 2015. After her first trip to Greenland in 2010, she completely fell in love with the country. She has lived in Greenland since 2015. She published her first book about Greenland, "그린란드에 살고 있습니다 (I live in Greenland)" in Korean language in 2019. Currently she is working as a web editor at Visit Greenland, national tourists board of Greenland.
Arctic Relations publishes scholarship and stories from the circumpolar North.