The Slide Show That Changed History: An Overview of 'Defending the Arctic Refuge'
22 October 2021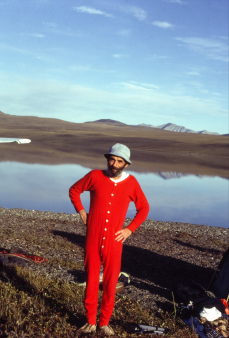 By Finis Dunaway
Defending the Arctic Refuge is not the book I set out to write. When I began this project, I wanted to understand how the Arctic National Wildlife Refuge became one of the most contested lands in all of North America. Tucked away in the northeastern corner of Alaska, the refuge provides life-sustaining habitat for caribou, polar bears, birds, and other species. For decades, though, the fossil fuel industry and powerful politicians have pushed to turn this unique ecosystem into an oil field. My plan was simple. I would trace the epic political battle over the Arctic Refuge, highlighting the role of images and other cultural texts in fostering public concern for this land.
And then I learned about Lenny Kohm. He was an unlikely activist—a former jazz drummer and aspiring photographer who had a life-changing experience in the Arctic in 1987. Along with some friends, Kohm put together an Arctic Refuge slide show called The Last Great Wilderness and then traveled across the United States for almost two decades, giving presentations in university lecture halls, public libraries, and church basements. The story was quirky, and I wanted to know more. I started writing Kohm a letter to ask if I could interview him, but, sadly, he passed away before I sent the note.
I continued to research his strange career, thinking that it might provide a chapter in the book. But the more I learned, the more fascinated (and, let's be honest, obsessed) I became. I relished the mysteries of his biography, but, even more, I realized that this small, seemingly quiet story cast revealing light on the entire refuge struggle.
To begin, Kohm was not a traditional wilderness advocate. He spent months in Gwich'in communities across northwestern Canada and northeastern Alaska and learned how drilling in the refuge would threaten the caribou that migrate through their lands. This was not simply a question of wilderness versus oil. It was a fight for Indigenous rights and cultural survival. Kohm worked closely with Gwich'in leaders, who often joined him on slide show tours and helped transform the refuge debate into a struggle for environmental justice.
As I researched this story, I talked with people across the continent—Indigenous leaders, environmental lobbyists, grassroots activists—who all insisted that Kohm's slide show exerted an enormous impact on the movement, even influencing pivotal votes on Capitol Hill. Although skeptical at first, I kept finding clues that backed up these claims. In the book, I let readers come to their own conclusions, but I sprinkle enough evidence to suggest that the slide show—and other forms of grassroots visual culture—made a decisive difference in keeping oil drills out of the Arctic Refuge.
Kohm's story, I found, also offered a portal into larger themes. I've woven into the book longer histories of Indigenous resistance to colonial mega-projects, stories of the government suppression of science, and analysis of close votes, tense moments, and shifting political dynamics in Washington, DC. In addition, I look at other images that became vital tools of public outreach—including the documentary film Being Caribou and photographs by Subhankar Banerjee.
In my previous work, I told stories about images, but I used those stories primarily to develop larger analytical claims. Here I tried to reverse that relationship—to make it a story-driven book, with the larger themes and arguments subsumed to the flow of the narrative. I hope that some of these themes will resonate with readers:
The importance of studying non-iconic images. An idea that underlies much of my scholarship is that images are vibrant texts infused with the power to shape history. Rather than focusing on iconic images, this book emphasizes the surprising impact of grassroots visual culture. I look beyond the frame to consider the relationships that images helped build—stretching from Capitol Hill to north of the Arctic Circle to cities and towns across the United States. These relationships allowed the slide show and other Arctic images to have agency in the world.
The making of diverse alliances. If the debate had remained narrowly focused on wilderness versus oil, it is almost certain that refuge defenders would have lost long ago. In particular, the leadership and advocacy of the Gwich'in widened support for the cause. Gwich'in leaders allied with environmentalists, but on their own terms. For them, the fight against Arctic drilling is a struggle infused with existential meaning: to hold onto their identities and cultural traditions and maintain their relations of responsibility with caribou and the land.
The multiple scales of analysis. In telling the story of a place, a person, and a political campaign, Defending the Arctic Refuge demonstrates the multiple scales in which history is made. From Arctic Indigenous villages to the hard marble hallways of Capitol Hill, from individual awakenings to diverse alliances, from grassroots venues to global bird migrations, the book moves across spaces to show the interconnectedness of the Arctic.
When I first learned about Lenny Kohm, I had no idea how much my research plans would change—let alone that I would come to see how a little story can contain multitudes.
---
Finis Dunaway is professor of history at Trent University. He is the author of Seeing Green: The Use and Abuse of American Environmental Images, which received the John G. Cawelti Award from the Popular Culture Association/American Culture Association and the History Division Book Award from the Association for Education in Journalism and Mass Communication. His new book is Defending the Arctic Refuge: A Photographer, an Indigenous Nation, and a Fight for Environmental Justice (University of North Carolina Press, 2021). You can find out more about the book (and see a recently-digitized version of The Last Great Wilderness show) on the book companion website.
Arctic Relations publishes scholarship and stories from the circumpolar North.