Seasonal Geopolitics of the North Pole
19 December 2022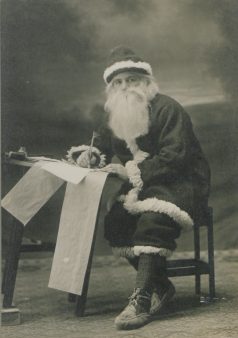 By Ingrid Medby and Justin Barnes
The holiday season is upon us, and children all over the world have been sending their wishes to the north, hoping for a visit from good ol' Saint Nic… someone you might know better as Santa Claus, Kris Kringle, Julenissen, Père Noël, or Grandfather Frost? Whichever name you know him by, most will have heard of the old bearded man, delivering both holiday cheer and material goods – seasonal warmth in an otherwise chilly time of year. However, as each year goes by and Santa checks his list twice (to see who's been naughty or nice), questions continue to be raised about the old man and his workshop: Where does the journey originate? What is his residency status and citizenship? Is he exempt from tax rules and immigration controls – 'Arctic exceptionalism' embodied? These are questions that have remained unanswered for almost as long has he's been silently slipping down chimneys – as we shed light on in what follows.
North Pole controversy
In some circles, these debates have led to some serious controversy over whose 'claim' to Santa holds the most weight. There are many convincing stories out there, many that place Santa's origins at different locations around the Arctic. For those convinced that Santa's workshop is located at the North Pole, the planting of a Russian flag on the seabed beneath the North Pole in 2007, relation to Russia's extended continental shelf claim of the Lomonosov ridge, might have been particularly concerning. And other states like Finland, Canada, and the United States have engaged in activities which also strengthen their claim: In Finnish Lapland, for example, it's hard to ignore the Santa Claus Village in Rovaniemi. At the same time, Canada and the United States' investment in dedicating its NORAD capabilities to tracking Santa on Christmas Eve leaves one thinking they (claim to) have the situation under control.
This slideshow requires JavaScript.
But what if all of these debates have been getting it wrong all along, and the question is not actually about extended continental shelves, building designated villages, or tracking the annual delivery route at all? One aspect of this that has not yet been discussed in these high-level fora is, as many holiday stories tell us, that the North Pole has had historical usage for as long as any of us can remember by perhaps the most unlikely UNCLOS claimant… Santa Claus himself. However, as soon becomes clear, Santa's presence or absence under UNCLOS does not immediately lead to straightforward answers. As mentioned at the outset, it turns out that claims to Santa too are contested. And this, we argue, is worthy of some seasonal geopolitical scrutiny.
Santa, sovereignty, citizenship
The eight Arctic states who make up the members of the Arctic Council, it turns out, all have diverging understandings of the bearded man in red (or blue?). For example, Americans and Canadians may agree that Santa lives on the North Pole, but the latter would argue that this is, indeed, firmly Canadian too. In fact, Canada Post, the county's national postal service, offers a special annual delivery service bringing letters directly to Santa — at his Canadian North Pole address. Many in North America will hang stockings and leave cookies and milk out on Christmas eve in anticipation of Santa's delivery of gifts on Christmas eve. In contrast, Norwegians are more likely to leave him some porridge – and would be deeply disappointed if presents weren't already well-placed under the tree as they wake up on the 24th of December. And for Danes, the travelling distance may indeed be shorter – from Greenland rather than the Pole itself. Meanwhile in Russia and other countries of the former Eastern Bloc, children will be waiting for Grandfather Frost (Ded Moroz) and his granddaughter to arrive with presents on New Year's Eve.
Claims to Claus and Geopolitical Theory
As geopolitics analysts, we argue that understanding the interplay between politics, power, and geography is crucial. Traditional geopolitical frameworks would point to the strategic relevance of the North Pole: Who rules the North Pole commands… perhaps not the world, but at least the world's overnight delivery of presents for a certain eve. And that is, indeed, a lot of power. One needs not look far to find external actors exploiting this power to their own benefit; take the Coca Cola company, for example, whose large trailers and lightbulbs have all but made red-nosed reindeer unemployed. And while employment and animal wellbeing both often fall outside the purviews of geopolitical analysis, it may be time to expand our lenses to look beyond traditional actors.
Arguably more useful for understanding this potential geopolitical crisis on our hands and under our trees, critical geopolitical insights bring in precisely these more-than-strategic concerns to shed light on global developments. When critical geopolitics was first articulated in the early 1990s, Ó Tuathail and Agnew (1992) described it as their aim to unpack how international politics is 'spatialized'. And is that not exactly what is happening when NORAD presents maps that track the old man's moves? An excellent example of what scholars have termed popular geopolitics is how numerous films, books, songs, and TV shows have been produced to represent Santa in a certain light, of a certain place. One only needs to watch the American film 'Elf' (2003) to get the impression that the United States has developed Arctic transportation infrastructure that directly links the North Pole to New York City: One must simply ride an ice floe before travelling through the seven levels of the Candy Cane Forest and the sea of swirly-twirly gumdrops, being sure to exit at the Lincoln Tunnel…
With no obvious or clear evidence of a singular origin for Kris Kringle, in this final part of this post, we offer a novel perspective and potential middle-ground: Santa as not unitary but plural; and with that the North Pole as more than readily claimable space. That is, as is now well-known, Santa Claus' (Saint Nicholas') origins are not from the Arctic at all, and the ways in which the gift-bearing man, or indeed men*, have been contextually welcomed differ. In conclusion, we therefore suggest that – controversially, but in the holiday spirit of sharing – there may not be just one Santa. Just as Arctic scholars and pundits like to point out that "There is not one but many Arctics", so too may we be talking about different things when we talk about Santa Claus. There may indeed be bearded men with funny hats across more than one state, transcending traditional concepts of sovereignty and citizenship. If there was ever a time to recognise plurality and diversity – of giving rather than taking – surely this would be it.
* Somehow a shared issue seems to be a lack of women; this might help explain the generally observed elderly age of santas/nisser – beyond the scope here, the North Pole may well have a demographic challenge.
---
Ingrid A. Medby is a political geographer at Newcastle University in the UK. Before this, she taught at UCL and Oxford Brookes University, and she holds a PhD from Durham University. Her research focuses on the intersection of geopolitics, statecraft, and identity in the Arctic. You can find out more on her staff profile.
Justin Barnes is the Assistant Editor at the Arctic Yearbook, a research fellow at the North Amercian and Arctic Defence and Security Network, and a PhD candidate at the Balsillie School of International Affairs in Waterloo, Ontario, Canada. Justin's current research is focused on circumpolar governance and human security in the Arctic. You can find out more from his BSIA profile here.
Arctic Relations publishes scholarship and stories from the circumpolar North.