The December spring…
19 December 2014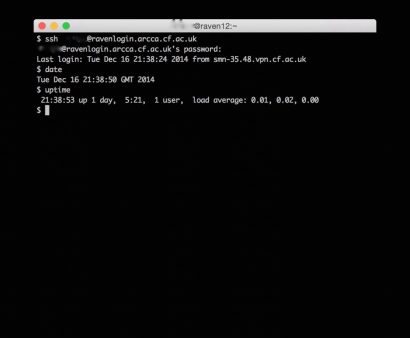 UPDATE – 20/12/2014 – Work still progressing on Raven and access will be given over the weekend of the 20th/21st with full service restored on Monday 22nd December.
Since the last blog post on the datacentre we have a number of items to report to "spring" us back into action.
Work in the datacentre
The work in the datacentre is now nearly complete.  The pipework was pressure tested with only one small leak which needed fixing.  The new power feed has been fully tested and required some work to fix some issues which cropped up.  The main work item that will allow more equipment to be switched on including Raven will be the commissioning of the chillers.  This involves testing the chillers will provide the required cooling and function correctly.
Work on Raven
Raven has been upgraded to a new version of the supported operating system.  As you can see from the following screenshot "…it is ALIVE…"
Since being handed the system from the vendors Bull earlier this week, we had to reinstate our custom settings such as:
Use fail2ban to identify possible hacking attempts and restrict access from the IP address.
Configuring the authentication to use the University LDAP server.
Install and configure the nsscache software to allow faster lookup of user information rather than accessing the LDAP server.
Install and configure the latest version of the PBS job scheduler (with help from Altair).
Install and configure the backup software used to secure users /home data (with help from University IT).
Configure login checks such as restricting users who can login to Raven.
Current plan
Once the chillers have been fully commissioned and we are able to switch on all the nodes on Raven we can fully test and allow users to access system.  We ask users to be a little more patient and we will announce via normal communication channels with updates before Christmas.  We aim to allow access on the 19th Dec but with limitations such as only accessing the filesystem and the service will be running at risk – but see update above. We will then test the service over the weekend with the aim of restoring full service by the end of the day on the 22nd.
Highlighting the work on ARCCA
Finally we would like to thank everyone who attended our ARCCA High Performance Computing research seminar on the 17th December at Cardiff University.  It was great to see the diverse research performed with help from ARCCA and HPC Wales.  A big thank you to the presenters Matthew Price, Ian Harvey, and Nicola Lloyd who presented their work.  Keep an eye out for the next one planned Spring/Summer 2015.
---
Comments