Cardiff Chemistry Conference
10 May 2016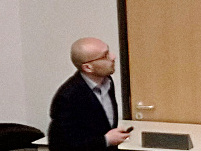 The 15th annual Cardiff Chemistry Conference was held this week.
The conference opened with a welcome and remarks from the Head of School of Chemistry, Prof. Allemann.
After Prof. Holger Braunschweig opened the conference, the programme segued smoothly from Antonio's presentation on dihydrofolate biosynthesis into Prof. Sabine Flitsch's talk on enzyme cascades.