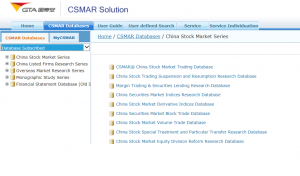 Cardiff University Business School has a subscription to CSMAR for its students. This database is the primary financial research tool on Chinese companies and related financial information. CSMAR is available on and off-campus.
In this video we provide a quick overview of how to locate data and download it within CSMAR.
In the example given, we search for the data we want to find, e.g. Total audit fee. We are then directed to the correct dataset within CSMAR. The video displays how to select companies based on criteria – in this example, we are downloading data for A share companies in the Shanghai stock exchange. We then tick the data that we want – total audit fee plus some additional data (stock acronym is the name of the company).
Finally we demonstrate how export this data into Excel.
Please note that there is no audio in this video.