We don't need to remind you that it's the time of year again when exams are just around the corner. But just in case all those emails have passed you by then we're here to do just that. Your library is still here to support you through the time leading up to your exams or assessments.
This exam period comes with some extra features such as timed assessments and open book exams but the tried and tested tips for revision are still relevant. Over the next few weeks, we'll be adding tips and links which we hope will be useful for you during this time. Please pop back regularly and follow us on Twitter too. Wherever you are revising, we are close by and want to provide the same level of support for you as we would do if we were in our physical library sites. We haven't quite worked out how to provide online jigsaws or our random acts of kindness yet but watch this space! 👀
---
Links for revision ✍️
8 simple rules for revising at home
Put together by Manchester Metropolitan University, eight easy ways to improve you home revision set-up.
https://medium.com/@mmulibrary/8-simple-rules-for-revising-at-home-24eece3eda06
Accessing our online resources
A short video to get you up to speed with how to access our online library resources.
Ask a librarian
Our online chat service for all of your library related enquiries.
https://remotesupport.cardiff.ac.uk/api/start_session?issue_menu=1&id=1&c2cjs=1
Cardiff University student app
The easy way to plan your day, check where you need to be and access help and support from your smart phone. Download it for free from the App Store® (iOS) or Google Play™ stores.
https://intranet.cardiff.ac.uk/students/applications/view/student-app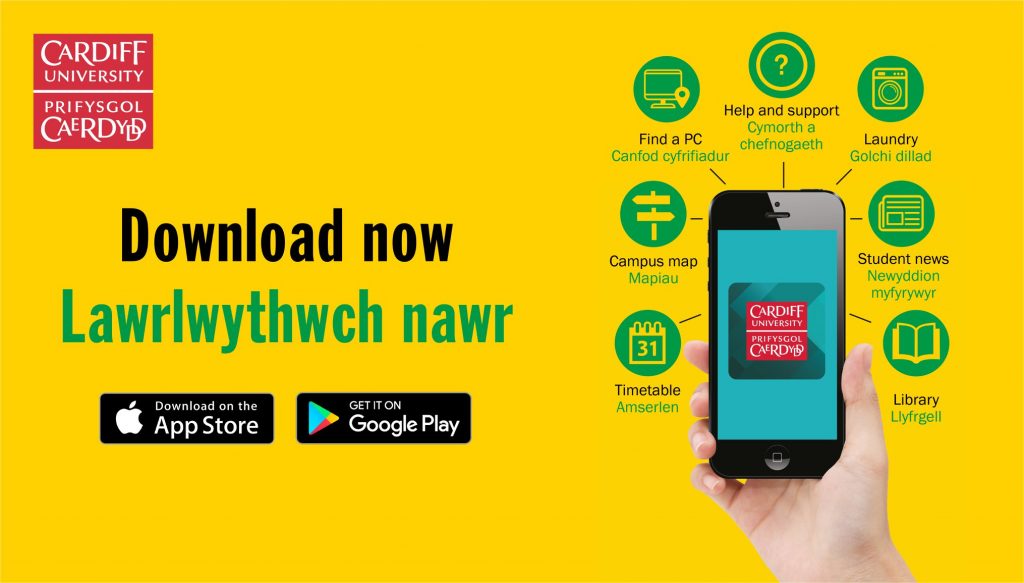 Effective revision
A Cardiff University study skills guide to help you prepare for exam revision and improve your revision techniques.
https://xerte.cardiff.ac.uk/play_12103
Information resources for your subject
Subject resource guides to support your study, use the links to access resources and information relating directly to your specific subject.
https://intranet.cardiff.ac.uk/students/study/libraries/subject-support/information-resources-for-your-subject
Library Access
Library Access is a browser extension that will notify when you are on a website that contains material the University subscribes to. A single click will open that site via the library, ensuring you've got access. If the article you'd like to use doesn't seem accessible, Library Access will automatically check for open access versions of the article or offer you the option to request as an inter library loan.
https://intranet.cardiff.ac.uk/students/applications/view/library-access
LibrarySearch
Our Cardiff University library catalogue, the starting point for all of your online resources. Remember to Sign in first at the top of the page!
https://librarysearch.cardiff.ac.uk/
Remote learning help for students
This resource has been designed to provide some basic guidance to Cardiff University Students regarding remote learning in order to help you make the most of your time when you are unable to attend the University site.
https://xerte.cardiff.ac.uk/xapi_launch.php?template_id=11728&group=student#resume=1
Sitting online exams
A Cardiff University guide to help you prepare to sit your online assessments.
https://xerte.cardiff.ac.uk/play_11916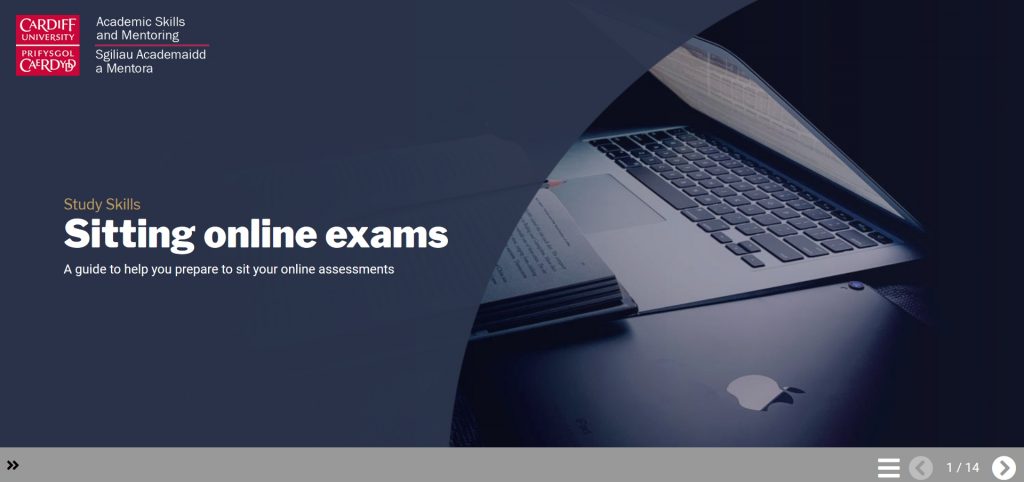 Subject support
Find and contact your subject librarian and find information resources for your subject.
https://intranet.cardiff.ac.uk/students/study/libraries/subject-support
Work collaboratively via our Zoom subscription
Host meetings and work with your coursemates via this multiuser video chat.
https://cardiff.zoom.us/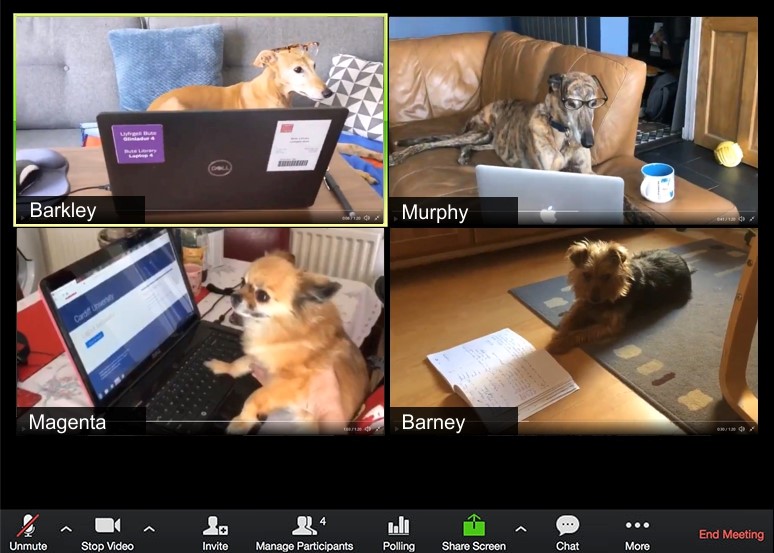 ---
Links for wellbeing and relaxation 💆
8 brilliant brain foods to eat while revising
Natural brain boosters to help you focus on the task at hand.
https://arden.ac.uk/knowledge-base/student-life/food-health-lifestyle/8-brilliant-brainfoods-eat-while-revising#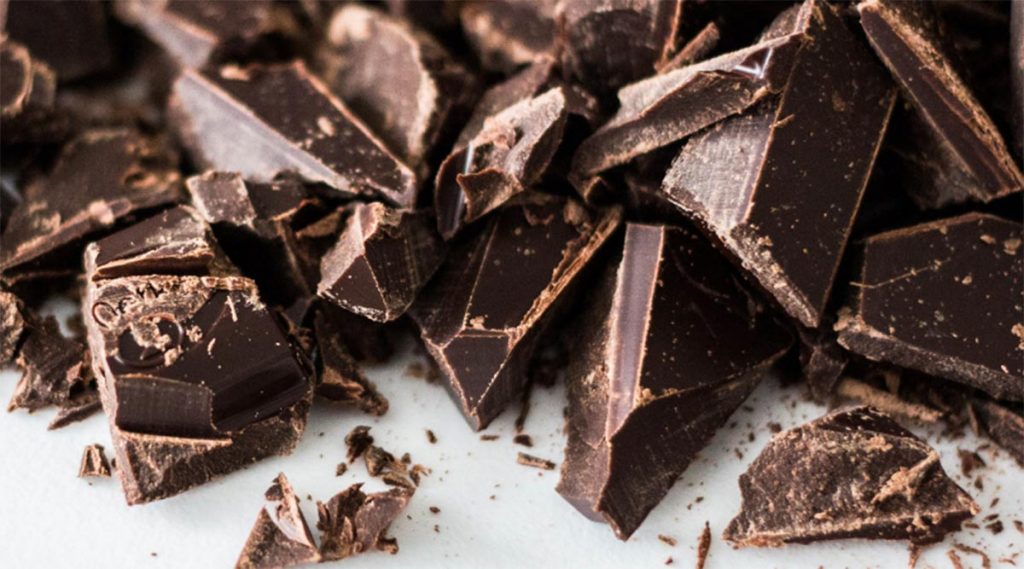 BorrowBox
BorrowBox is available online or as an app you can download to your mobile device. It allows you to borrow either audiobooks or ebooks from your local library any time of day from anywhere. Access via your Cardiff public libraries membership (see Join Cardiff public libraries link below to sign up!).
https://www.borrowbox.com/
Box of Broadcasts
On demand TV and radio. Record recently aired programmes from over 75 free-to-air channelsand search the archive of over 2 million TV and radio broadcasts. Cardiff University students and staff have full access.
https://learningonscreen.ac.uk/ondemand
Healthy sleep tips
Healthy sleep habits can make a big difference in your quality of life. These tips have been compiled by the National Sleep Foundation.
https://www.sleepfoundation.org/articles/healthy-sleep-tips
Join Cardiff public libraries online
Sign up to borrow eBooks, audiobooks and eMagazines 24 hours a day.
https://t.co/1LSfNaxBGL?amp=1
Tropical reef webcam
The Tropical Reef Habitat is the Aquarium of the Pacific's largest exhibit, containing 350,000 gallons of water and over 1,000 animals from the tiny cleaner wrasse to the zebra shark. View the relaxing live webcam here.
http://www.aquariumofpacific.org/exhibits/webcams/webcam_tropical_reef
Understanding your chronotype
Scientists now believe there are four ways to classify sleep/wake cycles. In the science world, these classifications are known as chronotypes. Chronotypes describe the periods when your body wants to sleep and when it wants to be awake. And to make it easier, the chronotype categories are named after animals.
https://mantasleep.com/blogs/sleep/how-understanding-your-chronotype-helps-you-sleep-better

Printable postcards: https://docdro.id/0RtTwXo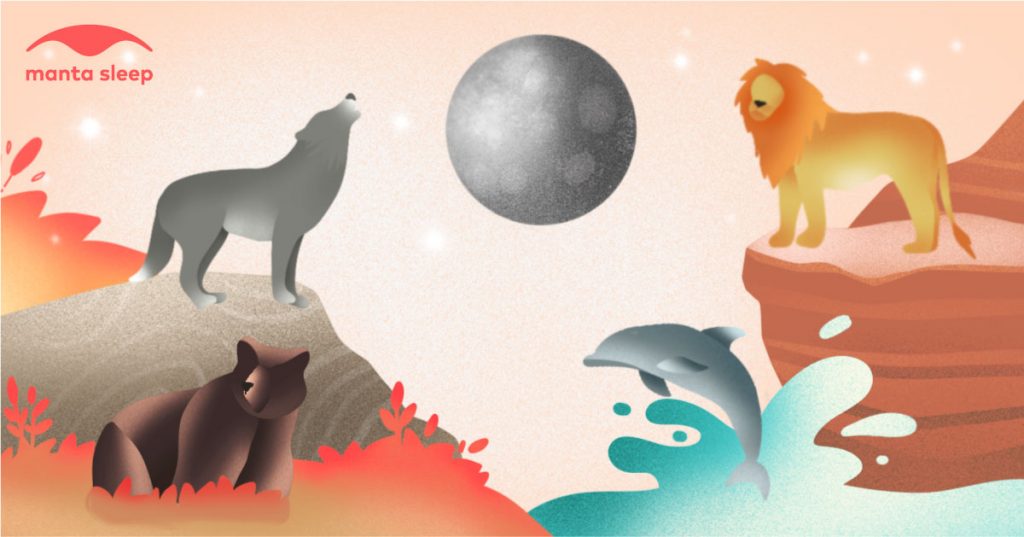 ---
Links for support 💚
Referring yourself for counselling and wellbeing support
If you are experiencing difficulties such as low mood, anxiety and other feelings of emotional distress or you are concerned about your safety or the safety of someone else please contact us. Find out more about the support available to you and how to access it online.
https://intranet.cardiff.ac.uk/students/news/view/2146711-referring-yourself-for-counselling-and-wellbeing-support
Samaritans
Whatever you're going through, a Samaritan will face it with you. They're here 24 hours a day, 365 days a year.
https://www.samaritans.org/wales/how-we-can-help/contact-samaritan/
TalkCampus
No student should ever struggle alone. TalkCampus instantly connects them with the right people any time of day in a safe, effective and encouraging environment.
https://www.talklife.co/talkcampus